For The First Time In A Long Time
February 23, 2018, at Seaholm High School, was a thrilling event for the boys swim team. The coaches Tim Hickey and Steve Larson lead the team to victory along with the dive coach Natalie Torano.
In the days leading up to the major meet, the swimmers worked very hard on perfecting their events and technique; followed by getting plenty of rest and eating correctly, so that each swimmer could perform  at his best for the meet.
"The league team started preparing for the meet about a week and a half before the Meet. They prepared by counting down the yardage and practicing their events with broke swims. We were confident that we would be able to perform our best. Luckily, our great team was well prepared to dominate at Leagues," said junior Jake Hart.
Throughout the season, the team won meet after meet, and the team knew going into Leagues that they had a strong chance of winning, but it was going to have to fight against longtime rivals, Farmington and Seaholm.
"Many swimmers were not rested, so we knew those that were rested for the meet were gonna have to step it up and score as many points possible[….] Overall, it was a very special time and moment for the team and especially the soon exiting seniors," said sophomore Derek Larson.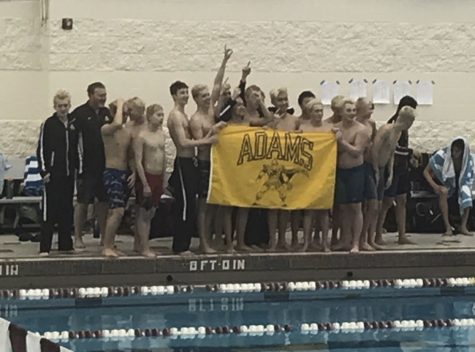 Other swimmers like Larson had to take charge and work as hard as possible to secure the title as League Champions. This was the first time winning the League title in a little under two decades, and the win was very special for the seniors that have waited their entire high school career for this opportunity.
During the meet, as soon as senior Jorge Roman and junior Hansen Qian finished and placed first and second in the breaststroke, the team know it had secured the title as League Champions. The excitement for the team raged through the natatorium, as the spectators and family members celebrated 18 years of waiting and hoping finally winning the League title.