Fantasy Football Analysis: Week 6
Fantasy football is always full of excitement, disappointments, upsets, blow outs, and embarrassing moments. Between injuries and surprisingly talented new players, you never know what is going to happen week in and week out. However, if you analyze the data, you can predict who will "pop off" one week and who will look like they have never picked up a football in their life another. 
Players to Cut
OJ Howard:  If you drafted OJ Howard thinking he would have a very good season, you were probably like most other people. However, Howard has been nothing but a disappointment to fantasy players across the world, averaging only 2.42 points per week. It's time to cut Howard unless you can find someone ignorant enough to trade for him.
Antonio Brown: Drafting Antonio Brown might have been one of the riskiest picks of the draft. Brown got picked up by New England after being released from the Raiders. After his first game, fantasy owners were really happy with his performance as he scored 17 points his first game with NE. However, sexual assault charges were brought upon him and because of erratic behavior, he was cut. You must let him go–there is little chance he will return to the NFL as he is currently attending Central Michigan University.
Players to Acquire:
Cooper Kupp: Kupp is a true dark horse. Not many people see him as a viable fantasy player since he is on an offense with two other superstar receivers. However, in the past couple weeks, Kupp has been Jared Goff's go to WR. He started off the season slow, but has built up some momentum, scoring in the high teens/low twenties in the last couple weeks. If you don't have him, he is one of the best flex players out there.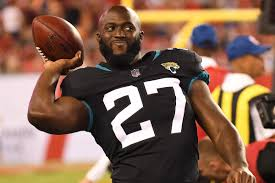 Leonard Fournette: Fournette is not high on anyone's radar, but he is like Kupp as a dark horse. Although he had a less than impressive year last year, and a pretty disappointing start to the 2019 season, he is starting to get in the groove. Last week he "popped off" for 225 rushing yards and 20 receiving yards. He's looking to continue those numbers this week. 
"Leonard Fournette is an amazing RB 1; I would give up just about anything for him," said senior and fantasy football enthusiast Trevor Buck.
Predicted Pop-Off of the week
Christian McCaffrey: McCaffrey has been on fire all year. He is by far the best running back in the NFL when it comes to scoring fantasy points. With QB Cam Newton out, there is no one else to run the ball except for McCaffrey. Given that the Panthers throwing game is rather disappointing, this leaves only one option for the Panthers offense: give it to CM. 
"Having Christian McCaffery on your team can single handedly win your game that week. Trust me I know," said senior Zack Gross.
Don't trade McCaffery no matter what the other person is offering.