Drew Brees Announces His Retirement
Future Hall of Famer, quarterback Drew Brees, retired from the NFL at 42 years old. He played 20 seasons in the NFL, with 15 of those seasons being with the New Orleans Saints where he won a Superbowl MVP. 
"I am only retiring from playing football, I am not retiring from New Orleans," Brees said. "This is not a goodbye, rather a new beginning."
Brees started his NFL career with the San Diego Chargers, being drafted with the first pick of the second round in 2001. After a few promising seasons with the Chargers, he suffered a shoulder injury in 2005, which convinced the Chargers to not re-sign him to a contract. Instead, the Saints took a chance on the young quarterback that proved to pay off. Brees would go on to lead the Saints to their first league championship in franchise history, where he would win the Superbowl MVP. Brees would end his career holding many records; the most notable being first in career passing yards (80,358), best completion percentage in a season (74.4%), and most completions in a season (471).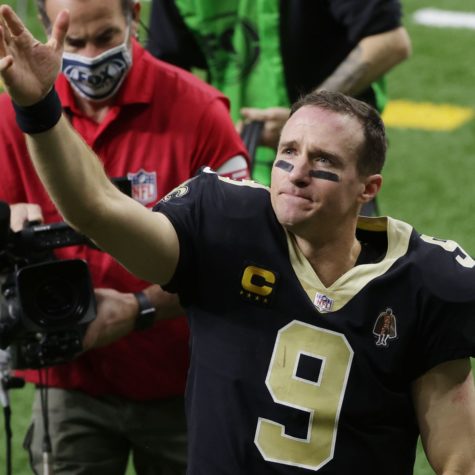 Drew Brees announced his retirement on social media with a video from his kids and a caption written by Brees to all of his fans.
"Each day, I poured my heart and soul into being your Quarterback. Til the very end, I exhausted myself to give everything I had to the Saints organization, my team, and the great city of New Orleans," Brees said.
Though Brees is done playing football, he doesn't plan on leaving the football scene entirely. In an interview on the "TODAY" show, he announced that he will be joining NBC Sports.
"I'm excited about that journey, I'm excited to stay very closely connected to the game of football. It's been such an important part of my life, and I continue to be able to talk about it, show passion for it and bring my kids around for that ride there as well and let them be part of some of those special moments," Brees said.
This is not an uncommon route, as other sports players like Nate Burleson and Tony Romo have also gone to sports broadcasting after they retired.
Most Adams students grew up watching Drew Brees dominate in the NFL, and it may take some getting used to not seeing him take the field next year.
"I'm going to miss seeing Drew Brees play next year, he was one of my favorite players to watch growing up," said Adams senior Colin Troxell.