College Football Signing Day
It's an important day for college football and yet not one many people hear about: Signing Day. February 5th is when high school football players choose where they will continue to play at the next level. 
This year, there were only two players that went down to the main office at 7:45 for Adams: Tim and Bob Anderson. The 6'4 twins are headed to Ferris State in the fall of 2020 to play offensive line for the bulldogs.
"We had originally thought we were going to play defense, but Coach Annese always saw us as O-line," said Bob Anderson. 
For most of the recruiting process, the twins were scouted as defense, but as Anderson said, Ferris saw them differently. At the yearly football camp, "Veer Camp", run by the staff of Ferris State, the twins really impressed. During a few "one on ones", the Anderson twins were able to beat five and four star recruits from Muskegon, some of which had earned scholarships from Ohio State, U of M, and recent National Champion LSU.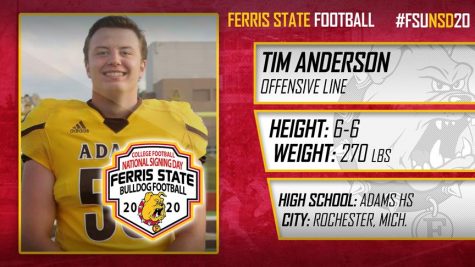 "Both are big physical players… hopefully they grow into big dominant players," said Ferris State Head Coach Annese in the official signee video posted by the program. 
The twins were Detroit news All State honorees, and selected to the all OAA Red league team. They are also heavyweight wrestlers, and switch off who wrestles each week. 
Although none of the Anderson's teammates signed on signing day, a few of them may still be playing football in college. To the Andersons and all future college athletes, Adams wishes everyone good luck in their careers.