Can Adams Football Make it Back to Ford Field?
The Adams Varsity Football Team looked convincing in their journey to making it to Ford Field for the State Title last year. Adams' runner-up finish set the bar for this season, but with so many key contributors leaving in last year's graduating class, what are the Highlanders' odds of making it back to Detroit this season?
The Class of 2022 included many star athletes, as winning was the norm throughout the high school football season. A pivotal player from the class included DE Alex Degriek, who made countless big plays during the season, such as his sack in the fourth quarter of the Regional Final to seal the win against West Bloomfield at home. Another star was RB Griffin Henke, who was crucial in third and fourth-down situations when Adams needed to pound a yard or two on the ground to move the chains or get into the endzone.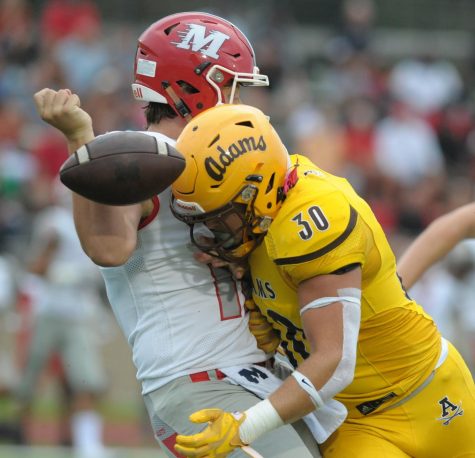 With some of the football team's greatest assets graduating, many Adams fans questioned whether the team was going to be able to match the firepower displayed by the brown and gold last year. The Highlanders answered that question quickly and convincingly, as in week one, they pounded the Eaglets of Orchard Lake St. Mary's Prep by a score of 42-14. They would then follow it up with a huge road win over rival Rochester High, 34-18.
"We were pretty clean, (we got) a couple of field goals," said Head Coach Tony Patritto about his team's offense in the Rochester game, "(and) we executed the two-minute (drill) really well."
The first setback of the year would come in week three during a home game against Clarkston that was featured on Bally Sports Detroit. The Highlanders led early on in the game, but once Clarkston got a hold of the lead, they would not let go. Clarkston handed the Highlanders their first loss of the 2022 season in a high scoring shootout, 45-35. 
After an easy bounce-back 42-21 victory at Lake Orion, the Highlanders avenged their loss to Clarkston by defeating a West Bloomfield team that reigned victorious over the Wolves a week earlier. Adams handed the Lakers their only two losses last season, and it was no different in 2022, as Adams took down West Bloomfield, 35-18. The Highlanders then traveled to Oxford, where the game was never in doubt, as Adams won, 33-7.
The homecoming football game was a great start to a fantastic weekend at Adams High School, as the Highlanders handled crosstown rival Stoney Creek at home, 44-18. Star junior WR Brady Prieskorn outshined Stoney, hauling in four catches for 134 yards and a touchdown, even as he was pulled from the game early to prevent injury.
Looking forward, the Highlanders have an easier schedule to close out the season, as they will face 3-4 Harper Woods at home this week, then travel to 1-6 Sterling Heights Stevenson.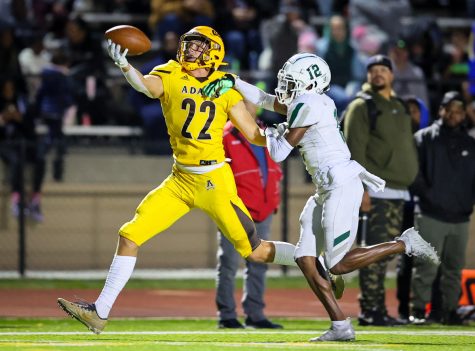 The playoffs will be when the real test begins, where every team that qualifies deserves to be there, as most–if not, all–playoff teams will have a win percentage of over .500. No Adams player or fan should be surprised if the Highlanders find themselves in a rematch with Clarkston or West Bloomfield, who have combined for four State Championships in the last nine years. If the Highlanders win their region, facing off with last year's state champion, the Belleville Tigers, will also be a likely possibility, as sophomore QB Bryce Underwood will be looking to move the ball all over Adams like he and the Tigers were able to do in last year's State Final.
"I am so motivated, because seeing Belleville celebrate just makes me…want to get back at it," said Prieskorn after last year's State Final loss.
So, the question is, can Adams Football make it back to the promised land? The answer is yes, they can. The Highlanders are loaded with talent from top to bottom, with a high-powered offense fueled by senior QB Parker Picot, who has tallied 903 yards and 12 touchdowns passing, with only two interceptions. He has also racked up a whopping 887 yards and 10 touchdowns on the ground. Picot, to no surprise, leads the state in total offensive yardage. Adams also features a shutdown defense, which has collectively totaled seven interceptions, two forced fumbles, and 22 sacks.
The road back to States will not be easy, and although Adams lost many of their star players from last year, the Highlanders have certainly shown promise in the 2022 season that leads one to believe that if they get hot come playoff time, they will surely be tough to beat.