Adams Wrestling Potential Grows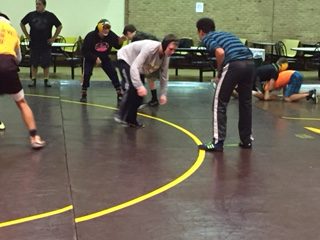 The recent loss of many crucial seniors on the wrestling team calls into question who will fill their spots this season. Thankfully, a large group of talented freshmen has emerged, threatening the spots of experienced upperclassmen. These freshman could potentially compete in varsity matches, bringing home points for the team to score some important wins.
One of the team's important seniors last year was Sam Addy, who scored many points for the team and eventually qualified for states. Another important wrestler was Jake Anderson, who now wrestles at Alma College. Finally, graduated senior Dylan Howcroft helped the team win many important tournaments. Many other players did not return for this season as well, leaving the freshmen class with big shoes to fill.
One of these freshmen is Sean Phalen. Phalen began wrestling at the young age of six, making him incredibly experienced with the sport and giving him an edge on anyone else who began their wrestling career later. Phalen wrestled throughout middle school and ended his middle school career on a high note with an undefeated season.
"My favorite thing about the sport is when you win because it feels so satisfying because of all the hard work put in," said Phalen. "I'm going to contribute by winning as many matches as possible and not taking any bad losses."                                                                                              
Another one of the many incoming freshmen is Kenny Jackson. Jackson started his wrestling career when he was in seventh grade. As a very successful middle school wrestler, he was undefeated his eighth grade year. He is now realizing, however, that the sport will not be so easy at the high school level.
"The conditioning is much harder, and the intensity in high school is much higher. The drilling is my favorite thing about the sport because I like to get better at doing new things," said Jackson.
Fellow freshman Maurice Swain began wrestling in sixth grade. He made the 20 Win Club, when a wrestler wins more than 20 matches at the middle school level, and is looking to do equally well at the high school level. This might be more challenging to accomplish this year due to the constant stress on the body caused by everyday practices and more frequent weekend meets.
"There are a lot more tournaments and a lot more meets," said Swain.
Coach Mike Holtz is very excited about this incoming class. "This class is one of the hardest working and driven group of freshman I've had the opportunity to coach at Adams," said Holtz. "They come to practice with a positive attitude day in and day out, looking to push themselves to do great things both on and off the mat."
After losing many of last year's seniors, the freshmen class has the opportunity to become varsity athletes who earn major points for the team.
"Our team goals are to head into the season with a strong healthy group of people who treat their teammates, classmates and administration the right way," said Holtz.
This team strives not only to be successful in their wrestling career, but also to translate what they learn on the mats to their lives outside of the sport, making them better people in every aspect.