Adams Varsity Swim and Dive are the Oakland County Champs
The Rochester Adams Girls Swim and Dive Team (RAGSD) has had a spectacular season thus far, taking consecutive victories over Stoney Creek, Birmingham Groves, Lake Orion, and Farmington, dominating nearby schools and remaining undefeated.
"The team has been off to an amazing start. The girls have worked hard every day, and the work is for sure paying off," said Tim Hickey, the varsity coach of twenty-eight years.
After winning numerous meets in a row, RAGSD competed spectacularly in the Oakland County meet and took first place with a 28 point difference over Mercy High School. This historic win marked the first ever county title in Adams history, bringing an end to Mercy's eighteen year reign.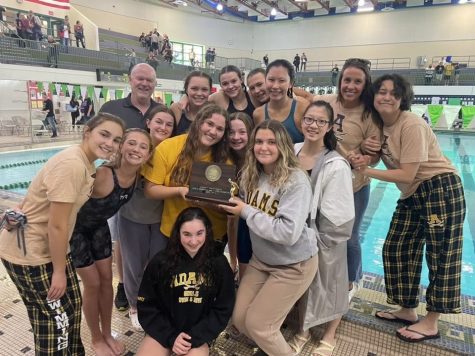 The Highlanders placed high in many races with countless first and second place finishes. Senior Rhian Russel took first in the 100 fly and placed second in the 100 backstroke. Sophomore Sadie Rogers won both the 200 individual medley and also the 100 breaststroke and junior Frankie Minous finished second in the 50 free and took fifth in the 100 free. 
"The meets have not been easy, but the girls have pushed themselves time and time again," said Hickey. "I have been more than happy to see the outcome of the hard work they have been putting in everyday."
Other RAGSD swimmers also made their cuts for States with senior Jessica Zheng earning two state cuts, freshman Peyton Nugent earning two state cuts, sophomore Jordan Laba earning two state cuts, and Brooklyn Ugorowski earning a state cut. 
In addition to their individual races, the team also had excellent relay times making a significant contribution to the overall victory. The 200 free relay team (Russel, Rogers, Zheng, and Minous) finished first and the 200 medley team (Russel, Rogers, Minous, and Dempster) placed second.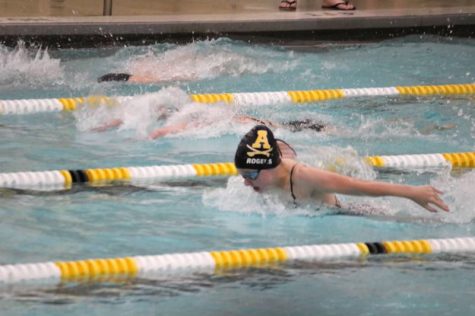 "Relays are more points that the individuals, so that helped contribute to the overall score," said Russel.
With many more meets coming up this season, the Highlanders believe they are yet to reach their full potential. Even though many swimmers got best times and high finishes, the team looks to swim even faster in the following meets and hold high expectations for States. 
"I think our performances were very good, but nowhere near where they will be at the end of the season," said Rogers. "Personally, I was disappointed in my times, there's a lot I need to improve on."
To prepare for meets, the RAGSD have a rigorous practice schedule with two practices a week at 5:45 AM in addition to the six day a week afternoon practices. Outside the pool, the team does dryland training where they do weightlifting, cardio, and additional fitness. While this schedule can be challenging, the swimmers are dedicated to improving, and they use their every effort in practice.
"They (morning practices) really help with the recovery process because if we didn't have them, we'd have to spend an afternoon practice on recovery, and that's kind of a waste because then you can't get better," said Rogers.
With exceptional determination and motivation, the RAGSD are full of potential, and the season is only going to get better. With Regionals and States coming up, the team is prepared for even more impressive meets and are ready for a spectacular season.