Adams' Swimmers Announce College Commitments Amidst COVID-19
One of the many areas that has been inadvertently impacted by the novel coronavirus is college athletic recruiting. Recruiting in general is hard enough, but during a pandemic, it can be nearly impossible for talented high school athletes to showcase their skills when the necessary facilities are not open. Fortunately for four Adams seniors, they were already on recruiter's radars and recently announced their college decisions. 
While the start of the current season was different than it was in the past, these talented seniors dove right in and have announced their verbal commitments to Division 1 and Division 3 schools. Their current coaches use words like determined, tenacious, committed, and unstoppable to describe this foursome. It is no surprise that these girls earned the opportunity to compete at the collegiate level.
Senior Meghan Fleury first jumped in the pool at age five and there was no turning back. Fleury is going to be continuing her academic and athletic career at Michigan State University, where she intends to study business or psychology. Over the past 12 years, she has developed a love for swimming and can't imagine life without it. Her most memorable achievement was in 2018 when her team brought home the first-ever state title for girls swim in Adams' history. After a year-long commitment process, she decided that Michigan State University was the perfect fit.
"It was a dream of mine to compete at a Big Ten school, and I loved the team dynamic there. I have also loved Michigan State my whole life, and I couldn't see myself going anywhere else," said Fleury
Senior Allie Danko has been swimming for ten years. She is going to be continuing her academic and athletic career at Cornell University, where she intends to study environmental science. When asked to share the career accomplishment she's most proud of so far, she said earning All-state in the 500 M has been the most exciting. After a nine-month commitment process, Danko knew Cornell was the one.
"I chose Cornell because of the great balance of Division 1 swimming with Ivy League academics," said Danko. 
Senior Claire Sweetwood has been swimming for ten years. She is going to be continuing her academic and athletic career at DePauw University, where she intends to study neuroscience on the pre-med track. Sweetwood has earned several accolades during her swim career, but her favorite achievement has been earning All American in 2019 in the 200 medley relay event. After a six-month commitment process, Sweetwood said yes to DePauw University in Indiana.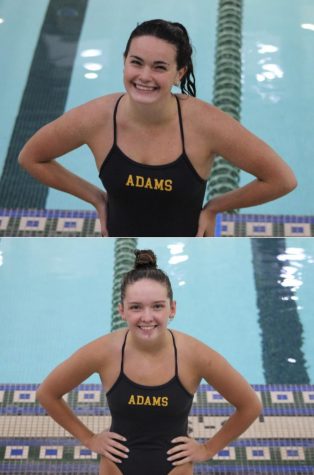 "I wanted a smaller school with a good pre-med program. I loved the team, and my visit to the campus sealed the deal!" said Sweetwood.
Senior Megan Mackenzie has been swimming for only four years. She will be joining Sweetwood at DePauw, where she will be studying environmental science. Mackenzie felt most accomplished when she made her Division 1 cut at the last chance meet. After a four-month commitment process, Mackenzie knew DePauw would be her new home.
"I chose DePauw because the head coach was super good with helping me with the recruitment process. She set me up with other swimmers on the team who were majoring in environmental science, which is what I want to major in, so I got to talk to them about the programs DePauw offers for that field. When I went to visit, I got to meet the team, and I got to see the campus, and I knew right away that was where I wanted to go," said Mackenzie.
While recruiting during a pandemic may seem like a nightmare, these four seniors made their dreams a reality.