Adams Smokes Rochester in the First Round of the MHSAA football Playoffs
The 2-4 Rochester Adams Highlanders faced their rival 6-0 Rochester Falcons in the first round of the playoffs in a perfect matchup after missing the regular season opener between the two teams. The Falcons were coming into the game hot after becoming champions of their league following a win against Berkley, but the Highlanders who have a 22 year win streak against the Falcons, had other plans coming into the game.
"From an outsider perspective, it may seem like the 6-0 Falcons could give the Highlanders a tough game, but the Adams players are ready to carry on tradition and win big tonight," stated Adams Football Coach, Tom Roncelli.
The game started well for Adams after driving down the field all the way to the 2 yard line, but the momentum slightly shifted after they threw an interception in the endzone. The Falcons offense came out trying to throw the ball long, but were completely shut down by Adams. This resulted in the Highlanders getting the ball back two straight possessions and scoring back to back touchdowns, making the score 14-0. The Highlanders were dominating the Falcons on defense and scoring on consecutive drives on offense. Another slow drive led to a third touchdown for junior Griffen Henke, and then there was another quick stop for the Highlanders defense. Just before the end of the second quarter, the Highlanders star quarterback Parker Picot juked out seven Falcons and scored on an astounding 70 yard run, making the score a 26-0 at halftime.
"It seems like Adams has Rochester by the neck; they can't score, stop us, or even get a first down on offense," stated senior student section leader, Jacob Kim.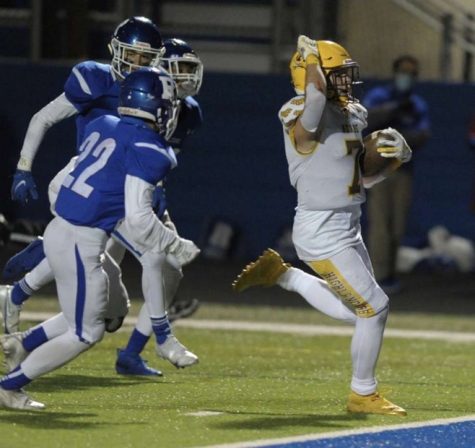 The second half had less scoring but still was mostly dominated by the Highlanders. Midway through the third quarter, the Falcons had their only spark of offense scoring on a 30 yard run straight up the middle putting the Falcons on the board and closing the gap to 26-7, but for the rest of the game, the Adams d-line terrorized the Falcons quarterback as he was rarely able to throw the ball uninterrupted by constant pressure. This continued for the rest of the third and fourth quarter, with the Highlanders scoring one more touchdown at the beginning of the fourth quarter, making the final score 32-7 and resulting in a win for the "underdog" Rochester Adams Highlanders. This game showed that the Highlanders 2-4 record may not have been a good indicator of the team's potential. ANd it certainly proved to reveal that the Falcons were not as good as advertised. This win marks a 23 year win streak for the Highlanders against the Falcons and preserves the opportunity for a 24 years win streak next season.