Adams High:Then and Now
What was Rochester Adams High School like 30 years ago? Adams' very own Dan Picot can tell all about it. As an Adams alumni and a current teacher at Adams, Picot has seen the school transform over the years. 
Picot's history with the school goes back to his days as a student: His old locker is not even around anymore after the remodeling of Adams in 2002. 
 "The student body had a high energy and the school was more divided based on groups. You had your jocks, nerds, emos, etc…" said Picot, after being asked what the atmosphere was like at Adams when he was a student.
Picot noted that the school has stayed mainly the same, other than the student body. The Adams student body today is much different than it once was. "Of course you have different groups of friends, but we didn't have areas that one group belongs to,"  Picot described. According to Picot, a lot more seemed to be tolerated back in the day, no cameras to monitor the students meaning little supervision by staff. Students had a way of making the school the way they wanted.
Picot has been around for some of the most important things that have happened at Adams. He was apart of the class that went to Van Hoosen when it was a junior high school, meaning that his freshman year was at Van Hoosen, not Adams. He also experienced the first year that Adams hosted a home football game due to the field being in terrible condition. Lastly, he was a teacher when Adams was remodeled back in 2002, so one of his years teaching was spent at Stoney Creek High School.
Picot has an obvious love for sports: he played basketball, baseball, and golf in high school. At a young age, he decided he wanted to major in physical education. Teaching at Hamlin Elementary School in the morning hours and then traveling to Adams to teach in the afternoon. Picot started his coaching career here at Adams in 1994 as a basketball coach, but soon turned his focus to golf. He taught girls golf for a number of years, and recently decided he wanted to coach the boys golf team instead. He was also, for a period of time, a coach for the baseball team.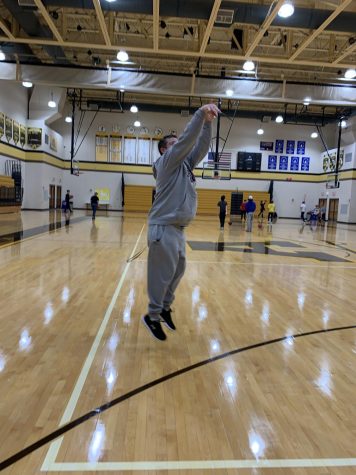 "Not a whole lot has changed since I was a student. Kids are still being good kids and sports teams are still competing at a high level. The only thing that really changed was the addition of the aux gym," said Picot.
Picot has been teaching for 25 years here at Adams and has seen a lot. He knows how teens have changed over the years and how the school has changed. He looks forward to coaching and teaching kids in years to come.