Adams Girls Varsity Lacrosse Beats the Creek
Monday, April 25th, Adams Girls Varsity Lacrosse beat Stoney Creek in an entertaining cross-town showdown game. 
Adams came into the contest coming off a devastating loss to Troy Athens 12-11 that snapped an undefeated six-game winning streak. The loss gave the girls an extra boost to pull off the win against Stoney Creek. 
"We had played our other rivals a week prior, and we stepped up to the challenge and took that win, so I knew that we could do it again and nothing could stop us from doing it in this game. My teammates and I prepared for this game by playing as a team and learning to trust each other more, and we had a team meeting to ensure that we are all on the same page going into the big game," said freshman Raegan Jerrell.
Adams and Stoney Creek's Lacrosse teams have always been rivals, and it could be seen clearly on the field that night. The Highlanders took the rivalry seriously and pulled out the win by a score of 14-11. 
"It felt super amazing beating them, because in my high school career, we haven't beaten Stoney ever, so it was just so great. It was a tough loss against Troy, so it was so great to come and pull off the win. We've had an amazing season so far, and going into the Athens game we knew it was going to be very fast paced, so we weren't able to pull off the win Friday, but we made up for it on Monday, and we played very well," said senior Sophia Gale, one of the captains of the team. 
Out of Adams' 14 goals, five each were scored by sophomore Lucy Lagman and freshman Raegan Jerrell, as well as two goals each from junior Reese Falconer and senior Ella Malinowski.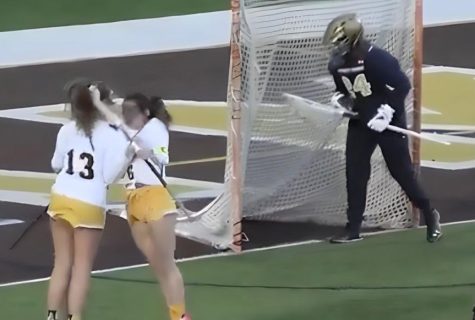 The defense contributed immensely to the win as well, as Adams' defenders acted like brick walls, stopping the offense of Stoney Creek from getting near the net, with sophomore goalie Madison Fish making eight saves. 
Following the win, they kept the energy going against Royal Oak, dominating by a score of 15-5. 
Adams is currently 11-1 and ranked 19th in the Michigan Division II level and 39th in all of Michigan, as well as being the OAA White League champions for the first time in program history. 
More information on the team and its schedule can be found on MaxPreps.