Adams Girls Track and Field Team Place First in Varsity Invitational, Boys Take Second
On May 4, Rochester Adams Track and Field team went to the 42nd Annual Muskrat Classic in Algonac, Michigan. After medaling in every event, the girls took first place and the boys took second.
This is the second consecutive year that the girls have won the meet. Last year, the girls team won by a landslide.
While this meet is one if the more eventful and fun meets of the varsity season, it still was highly competitive. Many good teams competed for one common goal, to win.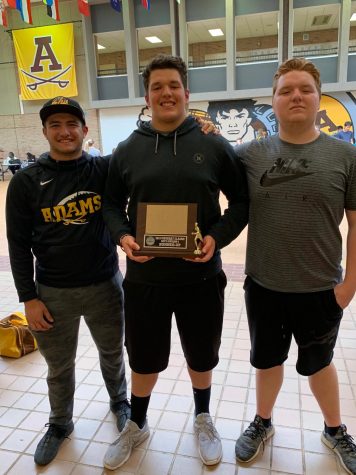 The day started with a 7a.m. bus ride all the way out to Algonac. After getting there, the field events started at  9:15. Boys shot put took first place overall, and girls took first place in discus. Additionally, both girls and boys long jump and high jump placed in both events. Girls won third place in high jump, and boys placed fifth. Finally girls got first in long jump.
"This meet is always really fun because we get to try a bunch of new relays that we would not usually be involved in. They let us work together in ways that we usually do not get to. Overall, it was a really great meet!" said senior high jumper Brianna Mckerracher.
Following the field events were the running events. There are many different and unusual events that take place at this meet. One of the more unusual events that takes place is the mascot relay. Senior Zack Mackenzie dressed up in an Adams kilt, and ran with other schools and their mascots. Another unusual event  is the field event relay. This co-ed relay is filled with four athletes who normally participate in field events. This relay took third place out of seven other schools.
"This relay was a great experience. Getting to participate in an event that I usually don't run was very fun and memorable. I would definitely like to participate in this relay again next year," said junior Dawson Adams.
This team has worked extremely hard all season. This meet highlights just one of their many accomplishments.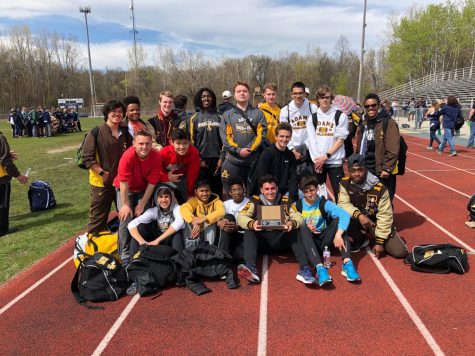 As the normal season is beginning to wind down, some of the bigger meets of the season are just around the corner. The next big meets are leagues, counties, regionals, and states. While every meet is very competitive, these meets amp up the pressure put on the athletes. The best athletes in every event from this area compete to fight for their place in states.