Adams Girls Swim and Dive Wins it All
On Saturday November 17, the Rochester Adams Girls Swim and Dive  team made history at Oakland University as they became the first ever swim team from Rochester to win a state championship title. At the MHSAA Division Two Championship, teams including Seaholm, Groves, Grosse Pointe South, and forty one others faced Adams in a race for the win.
Going in, RAGSD knew the meet would be a close call, with many teams possessing swimmers with exceptional skill levels. At prelims on Friday, Adams lost a few more points than expected, but managed to finish day one with an overall tally just above that of their biggest rival, Seaholm.
"I was a little nervous based on how we did at prelims on Friday, but I knew our team would step up for the last meet of the season," said senior Alex Waack.
Though RAGSD had an incredibly successful season, they did suffer a few scares along the way, including a close call in a dual meet against Farmington Harrison High School that ended in a tie. Nevertheless, these girls have learned to perform well under pressure, and after winning the league championship title for the fifth year in a row, these girls had nothing but pure motivation to win at the highest possible level.
According to "Outside Shot' Becomes Adams' Historic Win," an article covered by Keith Dunlap from Second Half, even swimmers as great as former Olympian Peter Vanderkaay have never seen this great of success for Adams swimming.
"This team came from behind after prelims to win our league meet, and came from behind to win this. It's just amazing for these girls to come together like they have," said head coach Tim Hickey.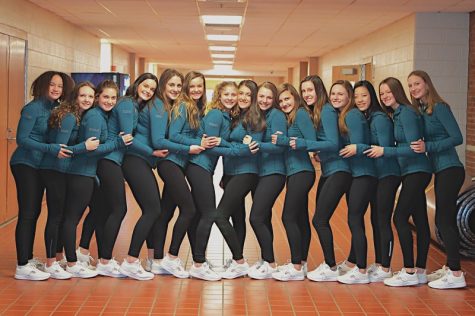 After swimmers like senior Lisa Lohner, who placed first in the 200 and 500 yard freestyle, raked in the points by placing in the top eight, RAGSD got the edge they needed to pull ahead. Unlike other schools, Adams had a great deal of depth among the entire state team, which is why every single race counted.
As the meet came to a close with the 400 freestyle relay, the scores were announced over the loudspeaker. RAGSD had pulled 30 points ahead of Seaholm, and managed to win the meet with a final total of 250 points. With parents, friends, and the school administration there to cheer them on, Adams Girls Swim and Dive held their first place trophy proudly on the top step of the podium and soaked in the glory of the state win they had worked so hard for.