Adams Girls Swim and Dive Their Way to the Top for the Fourth Year in a Row
This past Friday, the Rochester Adams Girls Swim and Dive team competed in the OAA Red League finals at Lake Orion High School. Since August, the girls have been training early mornings and late afternoons both in and out of the pool. With nine practices a week, RAGSD is in tip top shape by the time championship season rolls around, which means it comes as no surprise that in November they are always ready to race for the win.
At League finals, the best public school teams in eastern Michigan gather to compete for a championship title, including Birmingham Groves, Clarkston, Harrison Farmington, Lake Orion, Seaholm, and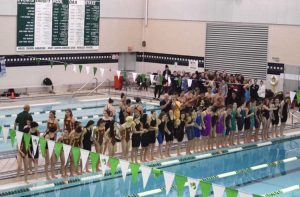 Rochester. Going into the meet, Adams had achieved a successful undefeated season. Even so, these swimmers were a bit anxious about going up against two of their biggest rivals, Harrison Farmington and Seaholm.
"I was really nervous when I saw how fast the other teams were, but I knew that if we swam like we usually do under pressure would could still win" said sophomore Sydney Fox.
Nevertheless, under the faithful leadership of coaches Tim Hickey, Katie Sullivan, Natalie Torano, and Chip Werner, the Adams girls worked harder than ever before and pulled out a win, achieving a final score of 446 points as opposed to the second place team, Harrison Farmington, who scored 427 points.
"I was beyond excited when I realized we were League champions for the fourth year in a row, and I really felt like we earned that win," said junior Katie Miller.
After the final scores were announced, the team joined hands in jumping into the pool, followed by all four of their coaches. The positivity, determination, and incredible work ethic of the girls swim and dive team is truly amazing, and it is safe to say that these girls deserved to reach such high accomplishments.