Adams Girls Lacrosse Making History and Breaking Records
On a night of ice cold temperatures and freezing rain, the Rochester Adams Varsity Girls' Lacrosse team faced off against Cass Tech High. On Friday, April 28th, Adams dominated the game, winning 17-7, an encore performance after two huge wins against Stoney Creek and Royal Oak earlier in the week. 
Those in attendance were also privileged to see attacker, sophomore Lucy Lagman hit the 100 mark in goals scored, while breaking the school record for goals in a game (10).
"I like to tell the team 'any given day', meaning any team can win a game on any day. We always need to be prepared to fight for a win, no matter the rankings or record of the team we are playing. Cass Tech brought some good challenges for us, which made it a fun game to play and learn from," said Head Coach Ally Rosenau.
The tension was high as senior Ella Malinowski took the opening draw. Cass Tech won the draw and ran down to Adams defenders. Senior Natalia Humbert was able to recover a ground ball and transition up the field, and moments later, sophomore Lagman had the first goal of the night, giving Adams the early lead. 
"I felt very confident going into our home game against Detroit Cass Tech. Our team has been working very well with each other, and we all learn how everyone plays to be successful. We really just try to motivate each other, especially when it's cold out," said senior Captain Ella Malinowski.
Throughout the first half, the game was neck and neck between the two teams, as the score at the half was 7-3. After a close first half, both teams were filled with energy going into the second half and ready to play.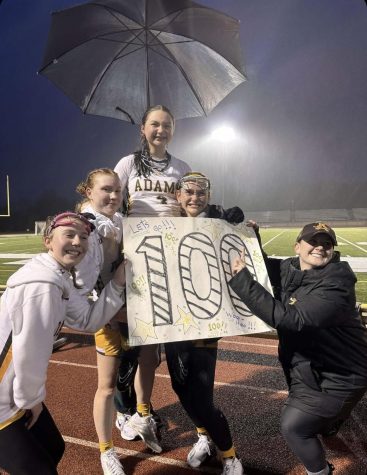 Adams' attack and midfielders started the second half strong; senior Meghan Gross and freshman Raegan Jerrell both were key players in the half. Gross was able to take advantage of free possession shots, and Jerrell stepped up to take the draws and was successful.
At this point in the game, Lagman scored her ninth goal of the night, breaking the Adams record hitting 100 goals scored. This also gave Adams a 16-7 lead with about two minutes left. Lagman was soon recognized over the loudspeakers for her accomplishments. Teammates swarmed her with hugs and support, as she finished the game with a total of ten goals. 
"At first I had no clue that I broke a record or even hit 100 goals. The team kept it a secret, so I was pretty shocked, but it was soon overcome with extreme happiness," said Lagman following the game.
Adams came out on top once again, improving to 9-1 on the season. They have since defeated Oxford and won the OAA White title for the first time in program history. They are currently undefeated in the OAA and first in the standings. Adams Girls Lacrosse prepares to play Grand Blanc on Friday, May 5th.