Adams ESports Team Smash Their Way to a State Title
Nicole Fu, Writer and Editor
February 17, 2023
Despite having only a year of prior experience, the Rochester Adams High School ESports team convincingly took the State Championship at Pinckney High School. The Adams ESports team competed in Super Smash Bros, battling a multitude of characters off a platform. The talented team of five (seniors Sergei Movsesyan, Ian Sellman, and Pablo Avila, sophomores David Cimpean, and Jordan Spink) won the state title and finished the season undefeated.
Throughout the eight-week season, the Highlanders competed in the Michigan High School Esports Federation (MiSEF) league. The league offered three games: Super Smash Bros, League of Legends, and Valorant, with the Adams team playing in the Super Smash Bros bracket. 
"We're one trick ponies (said jokingly). We specialize in one game and focus on one game throughout the season," said senior Pablo Avila.
Super Smash Bros is a popular game from Nintendo, in which up to eight players can battle on a platform, and aim to knock each other off the arena. Numerous character options from Nintendo games can be chosen for the battles.
"It's a really unique game because you have so many people in the game; you have Mario, Steve from Minecraft, and Pikachu. There's no other game like it," said sophomore David Cimpean.
The team went into the State Playoffs with high confidence levels, as they gained practice and experience throughout the battles before States. Depending on performances during the season, teams from varying high schools were ranked, which determined whether they would qualify for the playoffs. With no losses prior to States, the Highlanders easily qualified and entered as a strong favorite for the title.
"They were very confident, but they were confident because they are very skilled," said second-year ESports coach, Daniel Carruthers.
The State Finals took place over one full day of competing at Pinckney High School. After the  opening ceremony at 8:45 A.M., the teams were prepared and started their matches for a chance at the title. 
The team started strong with convincing wins over Davidson High School and Mustang High School. With built-up confidence, the team entered the semis against East Grand Rapids High School and faced limited difficulties before finally taking the win and reaching the finals. With nerves starting to rise against Roseburg High School, the team faced a rough start and was behind in the game. After facing potential defeat, the team came back strong and took the State Championship for Adams.
"We performed well at critical moments. We were all able to close out what we were expected to do," said Avila.
Avila had also competed last year, where games were played individually rather than in teams. Avila won States last year as well, making this back-to-back championships for the senior.
While the wins can be hard-fought, the team does much to prepare for the games. They practice warm-up rounds before the games and also plan strategically on how to play their opponents.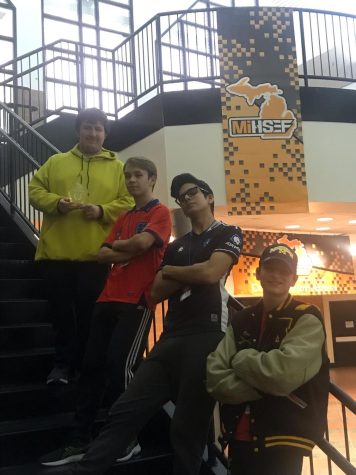 "Ian (Sellman) is the stats guy, he looks at the team and the members on a database and looks at the characters they play, so we look at the characters they play and the characters we play and think about how we can counter that character's moves," said Avila.
This year's team consisted of five players: Seniors Movsesyan, Sellman, and Avila, sophomores Cimpean, and Jordan Spinks. The State team included Sellman, Avila, Movsesyan, and Cimpean. 
While Esports are often overlooked by high schoolers, competitive players understand the benefits that they can provide. The team builds friendly bonds with one another and gets to meet new people from various high schools around the state.  
"I have a lot to improve on, and that's what the team is for. We're like a family, and we help each other out," said Cimpean.
In addition to forming lifelong bonds, Esports also opens up new opportunities for its players. College Esports teams are always looking for new skilled recruits, and playing college Esports is a great way to obtain scholarships and continue playing beloved games.
"I had a lot of colleges reach out to me and say 'you're really good at this game, and we want you to play for us,' which I found really nice because college can be really expensive," said Avila, who plans to potentially play for Michigan Tech or attend the University of Michigan.
With a spring season yet to play, the team is undoubtedly going into the next season with strong confidence and high expectations. Students at Adams are excited to see what the Esports Team will do next.