Adams Dance Team Fights for a Flawless Performance
On February 10th and 11th, the Rochester Adams Dance Team (ADT) competed in Nationals at Walt Disney World's ESPN Wide World of Sports Complex. 14 Adams dancers competed in the Medium Varsity Pom and Medium Varsity Jazz entries finishing strong in the Jazz entry.
Leading up to Nationals, dancers practiced at their competition studios every night, along with practicing three days a week for an hour and a half before school. The girls are also involved in competition companies where they focus on skills that make them better dancers, such as LA Dance. The dance team has been practicing since the fall season for Nationals trying to perfect both routines.
ADT ended one placement away from the National Semi-Finals, but the dancers were proud of their performance and are looking forward to their next opportunity. Dancers plan to practice over the summer to strengthen skills that may have been lacking in their Nationals performance. 
"Typically before we go on stage, we go over things to remember from practice and read off our counts. To make sure we are in sync, we try to count off steps in our head out loud and look to where other dancers are on the stage," said senior dancer Kennedy Demars.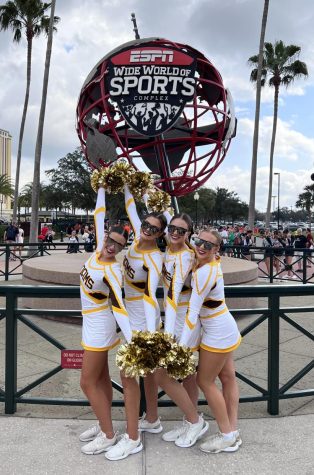 Outside of the Adams Dance Team, the dancers spend a lot of time together as friends and at competition studios. Many of these dancers have been on teams together since elementary school, which made these Nationals emotionally challenging for the Adams dancers, as they end their dance careers together.
"Experiencing my last Nationals with the best team was bittersweet. We bonded as a team and have grown to be lifelong friends," said senior dancer Jessica Gerard.
The sophomores and juniors are planning on making the corrections they received from judges throughout the off-season, and when learning dances in the fall, and the seniors have confidence that the underclassmen will have great leaders to take their places once they graduate. 
"I am excited to meet new friends this spring at tryouts. The team and I are very sad to see the seniors leave since we have been dancing with them for such a long time, but we know that we will have good dancers join the team," said sophomore dancer Audrey Philips.
Tryouts for ADT are towards the end of the school year, and the team is hoping to find some new talent and lasting friendships. They are looking forward to dancing with past teammates and new teammates on the sidelines in the fall and throughout competition season.