Adams Cheerleaders Take Home District Title
The Rochester Adams Varsity Cheer Team took home a first place title at District Championships at Stoney Creek High School. Led by head coach Brooke Miller, these girls competed against some of the toughest schools in the state at the most elite district competition in Michigan.
For months, these girls have been practicing day after day to prepare for competitions like this. During the championship season for any sport, serene motivation, focus, and a desire to improve is crucial. In the case of cheerleading, as soon as Districts rolls around, a positive mindset must be had at all times by all athletes. Districts, being the first stop on the road to States, sets the bar for how the rest of championship season will go. Competitions like this are where girls really show what they can do.
"We did not care what it took to win. We worked on having focus, urgency, and energy on everything to accomplish part one of our gaol. It's all about the little things now which can make or break us," said senior Natalie Keaser.
For girls like Keaser who have been devoted to Adams cheer throughout her high school career, winning Districts for the first time was not only unexpected, but incredibly rewarding. Milestones like this are what allow athletes to keep up the will to compete.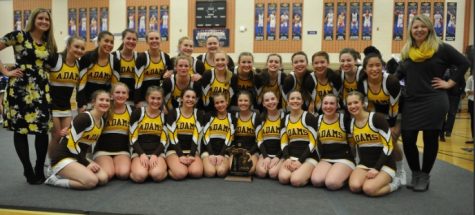 "We started going crazy when we heard them call second place, and when we knew that our hard work had paid off. I couldn't be more excited for regionals this weekend," said junior Christina Nardone.
The moment results are announced at any sort of game, meet, or competition is always nerve-racking. Whether the results are good or bad, it is the ambition and work put in that really counts. Needless to say, like every other hard working sports team at Adams, these cheerleaders continuously impress audiences with there hard work and utter motivation.