Adams Cheer Flies to the Top Once Again
The Rochester Adams Cheer Team finished first at the Troy Athens invite on February 11, with a score of 322.8 for round three, the highest the Adams Cheer Team has ever received. The cheer team placed first with a total score of 794.16 in District 4, which included rival high schools like Stoney Creek and Rochester. The Highlanders remain ranked fourth for Division 1 in Michigan, and are now OAA Red League champions. Next, to try and win their 4th straight Division 1 state championship.. 
"Our team is very talented, which is a big part of our winning streak, but having a close, connected team also gives us a leg up when competing. We all have to trust each other that we will do what we need to do and put in the work for each round," said senior cheerleader Laurel Kania.
The girls on Adams cheer form a close-knit team, as many have been competing together since middle school. 
"I think our team chemistry is very strong. We always say 'Do it for the person next to you,' which bonds the people in each round because we all have to work together and do it for each other. I also feel like all four grades on our team intermix because we are all friends," said senior cheerleader Ella Evans.
The buildup to competitions can be stressful for many cheerleaders for a multitude of reasons: remembering routines, correcting imperfections, and keeping up with their teammates. To ensure a flawless routine, the cheerleaders practice daily for around three hours as a team, excluding time spent watching past routines from other competitions or solo lessons with other coaches to work on skills such as tumbling or flying.
Despite the hard work that goes into being ready for the competitions, Adams cheer always has a positive and fun weekend at competitions. They perform well in all three rounds, and spend time with teammates after competitions.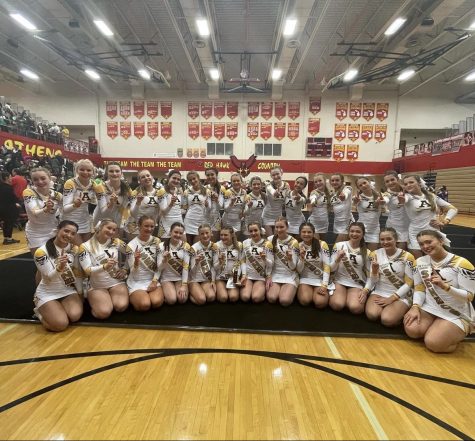 "The environment at competitions is fun! When we step onto the mat we're all so excited to compete and show off our rounds to everyone in the gym," said junior cheerleader Reese Falconer.
The Adams Cheerleaders competed in the District competition at Troy Athens on Saturday, February 18th, where they fought for a spot in Regionals. They placed first overall in Districts and Regional finals, and they will continue onto the State Championship at Central Michigan University Thursday, March 2, 2023.