Adams Boys Swim and Dive Makes a Splash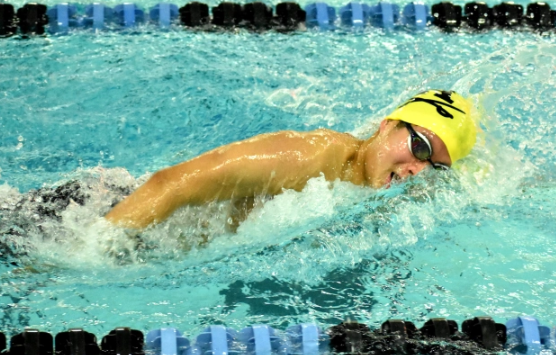 Diving into another swim season means hard work, dedication, and rewarding achievements to come. For the Rochester Adams Boys Swim and Dive team, success was proven at the 2023 Oakland County Boys Swimming and Diving Championships at Royal Oak Middle School. Out of 23 teams, Adams finished 10th, with 5 state cuts and 90% of swimmers having season best times. As they continue to train for leagues and states, work needs to be done, but these boys are always up to the challenge.
Five swimmers will be moving on to States: the 200 yard freestyle relay; consisting of seniors Caleb Bowers and Eduardo Rengifo, junior Ben Sweetwood, and sophomore Grant Song, went an incredible time of 1:32.71, dropping 0.37 seconds from their entry time. Junior Jonah Telang, got his first State cut of the season in the 500 yard freestyle with a time of 4:58.52. It was an exhilarating race to watch, as he consistently stayed on pace to win the heat. 
"It was a relief that I didn't have to get it later in the season. I'm looking forward to swimming at states with my teammates," said Telang. 
Adams has a record of 2-3 this year, with exciting wins against district rivals Rochester and Stoney Creek. However, at counties, Stoney Creek placed 4th and Rochester placed 6th, while Adams ended in 10th. Despite this, Adams' record is still a considerable achievement and leaves room for improvement before their final meet. Adams hopes to come out on top against Rochester and Stoney Creek at League Championships.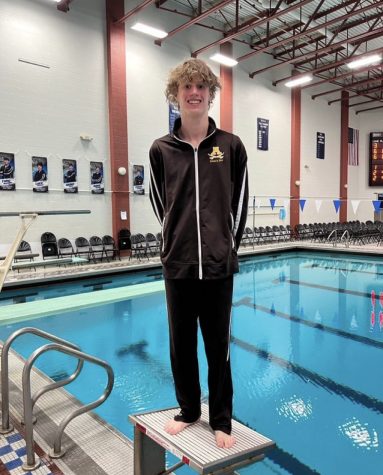 "The top two [Birmingham Groves and Birmingham Seaholm] are pretty much already set for leagues.  However we will have a close battle for 3rd, 4th, and 5th, as it is the first time in many years all three high schools in the community will be at the same league meet. It will be very exciting, and we will hopefully have more State cuts as well," explained coach Tim Hickey.
There were twenty boys that competed at this year's county meet, including Adams' three divers: freshman Colin Bauer, sophomore Ian Smith, and senior Nate Zazaeckis. Smith placed 8th at diving with a score of 339.50 points. 
"I'm very proud of the hard work I put in that paid off," stated Smith.
Throughout the season, the Adams swimmers and divers have mentally and physically prepared for success, with the main goal being league champions. Adams can expect to see more season best times and State cuts to come at the OAA Boys Swimming and Diving League Championships on Friday, February 24, 2023 at Wylie E. Groves High School at 5pm.