Adams Basketball Dances to the District Finals
Adams Boys Basketball is back in the playoffs as they faced Lake Orion in the MHSAA District Semi-Finals. They went into Districts with a record of 13-8. Can they make it 14 and 8? Adams Basketball was able to pull out the win and punch their ticket to District Finals with a score of 50-42.
Going into the game, Adams suffered a tight loss against Michigan's No. 2 ranked team, North Farmington High School, nearly pulling off an upset, which lit a spark for the Highlanders. Adams practiced daily in preparation for the Dragons, to bounce back from this loss.
"Our last game of the season, playing a top three team in the state, really gave us confidence going into playoffs knowing that we can compete with anyone," said senior Jack Donohoe.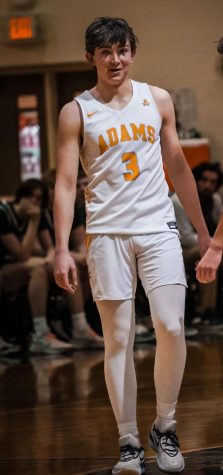 The District Semi-Finals were followed by another game between Eisenhower and Romeo, resulting in a packed gym with fans from all four schools. Unfortunately for Adams, many Romeo and Eisenhower fans were rooting for the lower-seeded Dragons. It was as if the Highlanders were playing all three teams at once; between crowd noise and injuries, it was a game that got everyone's blood pumping. Despite this, the Highlanders went into the half on top by a score of 25-16.
"In preparation for the district finals we will just do some scouting because all of our preparation has been from every game and practice this season. We just have to go out Friday and play to our standard,"  said junior Will Dee.
Brady Prieskorn led the game in scoring, contributing 25 points for the Highlanders. He was named Adams' "Impact Player of the Game" and helped fuel the win both offensively and defensively.
*At the time of publication, Eisenhower took down Romeo, setting up a matchup between them and the Highlanders.  The two teams played on March 10th and fought for the district mitten trophy. The Highlanders came out on top, and moved on to play Milford winning the semi-regional matchup 59-41. The regional finals will be played March 15 between the Highlanders and Clarkston.