A Rags to Riches Season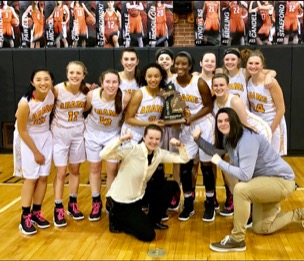 The Rochester Adams girls basketball team silenced all critics and doubters en route to a district championship for the first time since 2001 under first year Head Coach Jacki Steinacker. This group faced more adversity than expected, and when the playoffs began, the 8-14 set out on a mission.
The girls advanced to the district finals against Utica Eisenhower with ease and prepared for a game that will go down as a program defining win. The Highlanders were up 29-21 at halftime, but the heavily favored Eagles fought back to take a 35-32 lead at the end of the third quarter.
This was the moment where the senior leadership of Rogers, Owusu, and Simard was much needed for the Highlanders. Led by 23 points by Owusu, and a pair of game clinching free throws from Simard and Rogers, the girls were 1.7 seconds away from victory. Eisenhower failed to tie the game, and the girls rushed the floor in excitement and jubilation.
"Winning a district title was a huge accomplishment. It felt great to finally lift that trophy after two years of being so close," said senior guard Maggie Rogers. "It was even more special getting to do it with such an amazing team that never gave up when facing adversity."
While struggling to find their stride throughout the season, the girls showed that playoff time is when the games really count.
"It felt great because everyone doubted us coming into districts because our record was not the best," said junior point guard Makayla Smith.
The Adams girls defied the odds, even when almost everyone counted them out. Adversity was a common theme for the girls basketball team this season, and they fought hard all season long. With a good core returning next year including juniors Makayla Smith and Noelle Dunbar, there is a great chance for this squad to win back-to-back district titles!