A Cinderella Story
The Rochester Adams mens soccer team finished with a record of 5-11-2; it is seemingly impossible to win a district championship, right? Well, the Rochester Adams Men's Soccer team proved everybody wrong.
On Wednesday, October 16th, the Highlanders knocked off the Lake Orion Dragons 2-1 in the district finals game at Stoney Creek High School. Everyone was shocked to see the Highlanders in the district finals after what senior player Jack Wardle called, "The worst season we have had in years." However, the team always believed in themselves and turned a losing season into a district title. 
"We always knew our record did not reflect how good our team is. Belief in each other and playing as one helped us in the playoffs," said senior Charlie Bass when asked about the miraculous playoff run. 
The Highlanders had already beaten Rochester and Romeo in the playoffs before coming into this district championship game, completing multiple impressive wins for the team.
The game started fast, with a quick goal from senior Nick Kochanski to put the Highlanders up 1-0. The rest of the first half was even, with both teams having a similar time of possession. The first half ended with the Highlanders up 1-0. Midway through the second half, it continued to be an even game. Then, with about twenty minutes left in the game, the Dragons scored a goal to tie it at 1-1. The crowd was on the edge of their seats; the district championship game was tied with only six minutes left. Then the Highlanders took control. Senior Jack Wardle executed a corner kick placing the ball nicely in front of the goal. Charlie Bass then dove at the ball head first and chipped it right over the goalie's head to score and finish off the Dragons for good.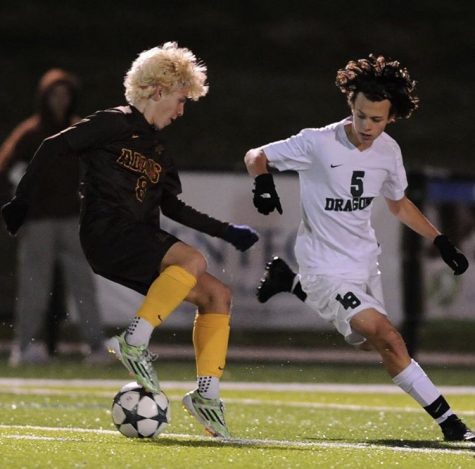 "I trust my teammates when I kick those corners; put it in front of the goal, and they usually will put it in for a goal," said senior Jack Wardle when asked about the game winning goal. 
The Highlanders moved on to the regional championship game for a matchup with Chippewa Valley.