2022 NBA Draft-Detroit Pistons Scouting Report-Jaden Ivey
Name: Jaden Ivey
Birthday: 2/13/02
Main Position: Shooting Guard
High School (Hometown): La Lumiere Prep (South Bend, IN)
College Team: Purdue Boilermakers
Current Year: Sophomore
Height/Wingspan: 6'4/ 6'7-6'10
Weight: 195 lbs.
NBA Comparison: Mix of Dwayne Wade and Ja Morant
2022 NBA Draft Projection: Top 5 Pick
Regular Season Stats:
17.2 ppg, 3.0 apg, 4.8 rpg, 0.9 SPG, 37.0% 3FG, 45.9% FG
Report
Description: Ivey is a 6'3 versatile combo guard with a wingspan ranging from 6'7-6'10ft for the Purdue Boilermakers.
He's a quick combo guard with great potential, as he has many upsides and traits for him to succeed in the NBA. His potential and improved performances ultimately boosted his stock this year, and he's projected to be a top 5 pick in the 2022 NBA Draft.
Fits Best on: Detroit Pistons, Sacramento Kings
Strengths:
Ivey has a long list of strengths and upsides. He's an explosive player, and arguably even the best athlete in the current draft class. His game offensively mainly attributes to a slasher, as he uses 
his explosiveness and a quick first step to burst past defenders. Ivey's vertical is also very impressive, occasionally using it to chase down blocks on one end, and finish in traffic at the other….. His overall shooting is fairly efficient, shooting 45.9% on 3PA from the field this year. His development at the 3 point line will definitely be a deciding factor on how high his ceiling is. He's showing improvement from his freshman year at Purdue where he shot 25.8% from three (currently shooting 37.0% on 4.9 3PA). His efficiency on offense is unmatched as his EFG% is 53.3% (up from 45.5% last year), making him a scary opponent to face playing against Purdue. His motor and determination stand out and sets him apart from his competition, going all out to win. 
Ivey is also a solid on-ball defender, relentlessly pressuring his opponents everywhere on the court, and is a good perimeter defender for his size and frame. Ivey's fairly attentive off the ball on offense, and gets to places where he can get a good look often. On the ball, he also reads the game well, where he consistently sets up shots for himself and his teammates. He sometimes uses screens to set up his shots, setting his feet well before shooting close/mid-range jumpers. 
Weaknesses: 
Ivey's will to win high, but it leads him to overconfidence at times, occasionally shooting very questionable, ill-advised shots when faced with pressure or difficult game-time decisions. He can also get too energetic and out-of-control on the ball, leading to turnovers. On defense, this leads to him picking up unnecessary fouls, which may hinder him defensively against more-experienced guards at the professional level.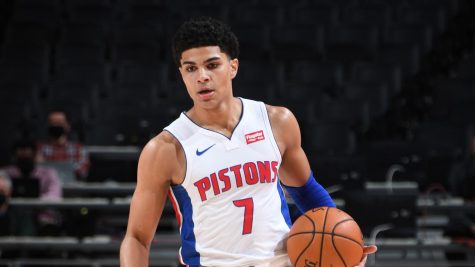 Ivey also needs to add to floater to his game, due to him passing up good close-range opportunities in the paint.
Fit on the Pistons?
Although Ivey would be a solid pick for the Pistons, as he would fit well into Dwayne Casey system at the Pistons, and would likely slot in the starting 5 at shooting guard. He's a much better option than Hamidou Diallo and Killian Hayes, as he would offer more on both ends of the floor. He would fit well into the Pistons' backcourt, as he would likely play well with Cunningham, and potentially serve as secondary ball-handler. His 3pt shot still needs work, and he also needs to control his energy to prevent excessive turnovers at the professional level.
The only problem is that Ivey is a potential number pick, as he on the same level top prospects Jabari Smith Jr, Chet Holmgren, and Paolo Banchero. He may not be available when the Pistons are on the board. Because the Pistons may not finish with the worst record in N.B.A like last year, they are less likely to get the number one pick in the 2022 N.B.A Draft.