Yeezy Outdoes Nike Brand Once Again
Over basketball's biggest weekend, the NBA All Star Weekend, In Chicago, Illinois, Kanye West and Adidas teased the potential release of the infamous and never-before-seen Yeezy Quantum basketball shoe.
Unlike conventional marketing tactics like online advertisements, billboards, and teaser videos used by brands like Kanye's old endorsement brand Nike, Kanye had a different idea. He took to the streets of his hometown, Chicago, to release his brand new sneaker silhouette, entitled the "QNTM". On Saturday, February 15th, Kanye and his motorcade of Sherpa trucks rode around downtown Chicago with six armored military vehicles, filled with his new shoes in the background. 
"It was unlike anything I had ever seen before, and at first, I thought the U.S. military was riding around the streets of Chicago, until I actually saw Kanye West, and other celebrities like Migos rapper Quavo riding around in them" said Douglas Bombard, an Adams senior who was visiting Chicago with his friends for All Star Weekend.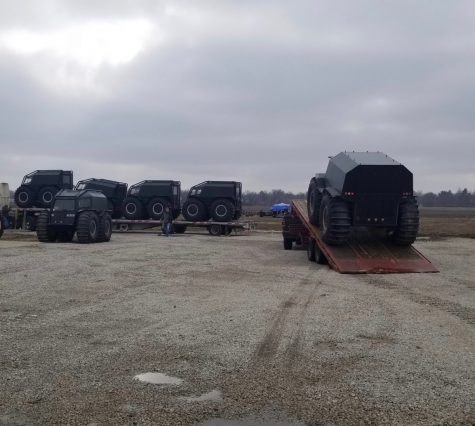 Soon after the trucks were spotted on the streets, the internet quickly alerted everyone in the area, and flocks of Yeezy fans started tailing the vehicles. As crowds were forming, and concerns for public safety were rising, Kanye and his team of drivers decided to stop at random public locations in the city. The trucks made numerous stops at locations like Grant Park all the way to the outskirts of the city, just to keep sneakerheads on their toes.
Shortly after crowds formed, the trucks were not able to drive safely on the streets anymore, and pulled over to let fans try to get the new release. But there was a big catch. After the trucks stopped, only certain people would be able to get the new shoes. 
In particular, only people wearing expensive Nike shoes were allowed to swap the shoes on their feet for the brand new Yeezy Quantums. A man was even seen taking off his Nike Fear of God 1's, which are currently trading for close to two thousand dollars on the secondary market, in order to get his hands on a pair of the new Yeezys.
"I think the subconscious marketing that happened here in Chicago today really struck a chord with Nike," said Jeffrey Bendova, a popular sneaker reseller and personality in New York City.
Aside from the fans flocking to the trucks for the new shoes, the most impressive part was the ingenious marketing behind the new sneaker. With zero information circulating about this shoe before its shock release in Chicago, Adidas and Kanye West were able to generate more buzz and hype around these trucks than almost any Nike release ever. Many also now believe that this marketing tactic was a way to jab the Nike brand because they would only accept people to swap shoes if they wore expensive Nikes. People swapping their beloved Nikes for Adidas shoes showed the public what shoes the people really want.