Wreaths Across America Honors Our Veterans
Wreaths Across America is an annual event that allows Americans to honor those who have fought for the country and have since passed away either during their service or after. Each year as Christmas approaches, thousands of Americans volunteer their time to pay respects to their fallen heroes and give something to them in return.
On December 17th, 2022, thousands of citizens will participate in Wreaths Across America, which is hosted by a non-profit organization at Arlington National Cemetery, as well as 3,400 other locations in all 50 states, at seas, and abroad.
The nearest location to Adams High School is the Great Lakes National Cemetery, located in Holly, Michigan (just over a half hour from the high school). Over 23,000 fallen soldiers are either buried or cremated within the bounds of the 544 acre property.
"Burial in a national cemetery is open to all members of the armed forces who have met a minimum active duty service requirement and were discharged under conditions other than dishonorable," said the Great Lakes National Cemetery.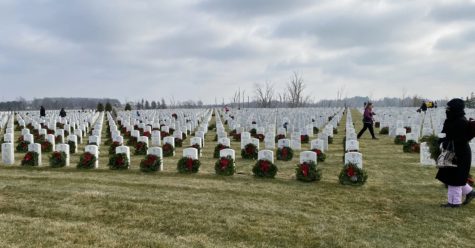 This event involves multiple freight trucks that are piled with wreaths from top to bottom, distributed by coordinators to volunteers, who find open graves and tombs to place the wreaths in front of. Whether or not the wreath-layer has a personal relationship to the fallen soldier, volunteers are always sure to take a moment to reflect upon and respect that soldier that has now passed.
Efforts last for multiple hours, until every wreath has been assigned to a grave. However, the cemetery is large and there are many participating cemeteries, so unfortunately not every grave can have a wreath. To compensate for this, volunteers work with as much efficiency and care as possible in order to respect those who have fallen.
Wreaths Across America is available to Americans of all ages, making it a perfect opportunity for high school students to pay their respects towards the nation's fallen heroes, as well as educate themselves on the armed forces through information at the cemetery and the hundreds of veterans that volunteer.
Those that are unable to volunteer are still able to contribute in other ways. Anybody can visit the Wreaths Across America website and sponsor a wreath to honor a veteran of their choice.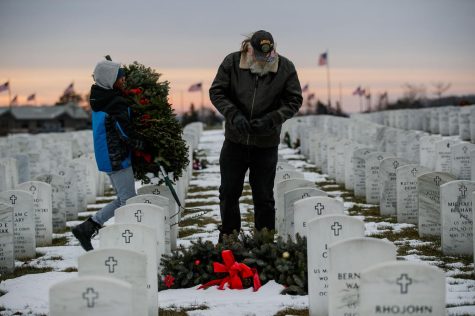 "Wreaths Across America's mission touches the lives of thousands of school, scout, civic and religious groups across the country through fundraising for wreath sponsorships," said Wreaths Across America.
Wreaths Across America is one way to thank those who have risked or sacrificed their lives fighting for American freedom. Whether sponsoring a wreath or volunteering to help lay them down, Wreaths Across America is a great way for high schoolers to connect with their veteran heroes, both living and fallen.