Welcoming Mrs. Crabtree to the Adams Family
Anyone who keeps up with Rochester Adams High School knows about the hiring of a new administration. After the addition of assistant principal Todd Calcamuggio at the beginning of the year, one more assistant principal role still needed to be filled.
In October, Adams welcomed new assistant principal Karin Crabtree to the staff. Crabtree previously worked at Northville High School for 16 years as a guidance counselor, and then worked as an administrator. She has been in education for 21 years in total, and has her bachelors and masters degree in education from Michigan State University.
Crabtree originally went to school for Arts Management, and planned to manage a theatre in her future. Then one summer, she took a job at a YMCA summer camp and taught Theatre, Arts, and English to the kids. Crabtree loved it so much she decided to change her major to education. Although she pursued education instead, she has not lost her theatre roots.
"The theatre department is embracing Mrs. Crabtree. She used to direct shows herself, and we love her a lot," said theatre director Joanna Pillsbury.
Crabtree has been at Adams since October 4, 2017, and says that everyone has been very welcoming. Students come up to her and shake her hand, teachers help with getting her into the swing of things, and everyone has been so kind.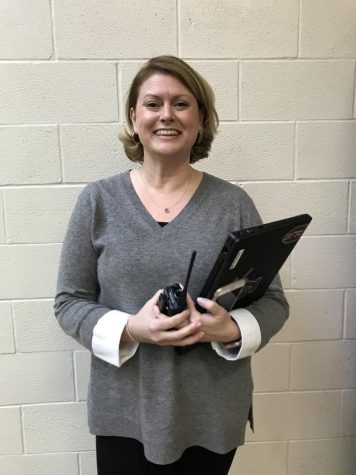 Since she has been working here, Crabtree has had to observe and watch teachers and their students in classrooms. This was to get a feel of how Adams works, and Crabtree only had good things to say.
"I have been very impressed with how committed everyone is to their studies and challenging  themselves and doing their very best," said Crabtree.
The teachers in the school are very impressed with Crabtree themselves. Not just the teachers who who have had Crabtree in their class, but those who have seen her in action. When asked, History and Language Arts teacher Allison Danielson had nothing but kind words to say.
"She seems very friendly and on top of things, which I really like and is very supportive of both teachers and students," said Danielson.
New people means new experiences and opportunities. Adams is very honored to have Crabtree as a part of its staff, and is looking forward to what she will bring to the school. Even though change takes time to get used to, Crabtree hopes to be apart of the Adams family for a very long time.