Veterans Day at Adams High School
On Veterans Day, United States citizens honor the men and women of the United States Armed Forces for the sacrifices they make defending our country. Rochester Adams High School showed appreciation for veterans in a number of ways on Monday, November 11.
At the beginning of the day, a special breakfast was held honoring military family members. Adams students were allowed to invite and join military friends and family at this event. This was the third year that Adams hosted a morning breakfast program. 
The breakfast started off with a special performance of the "National Anthem" by the Adams school band. It also included a special honor walk and an opportunity for the vets to share their personal stories and answer questions about their experience in the different branches of the military. 
Later in the day, 1500-plus students placed a flag outside on school grounds to express our pride and appreciation. 
"It was special to see all the flags and how the whole school participated," said senior Connor Gage. 
Each student got a chance to plant a flag, which gave the whole school a chance to be involved in this special day. To make the day more personal, students made signs honoring their family members with messages like: "Thanks dad; you're my hero", or pictures commemorating veterans to be displayed alongside the flags for the community to see. 
Another Veterans Day tribute is the Wall of Honor. The Wall of Honor displays photos that are placed and decorated on the Veteran's Day Mural of military families or friends. 
Amy DiCresce, PTSA Legislative Co-Chair and coordinator of this event stressed how it gave each of the students a moment to reflect on gratitude to all military personnel.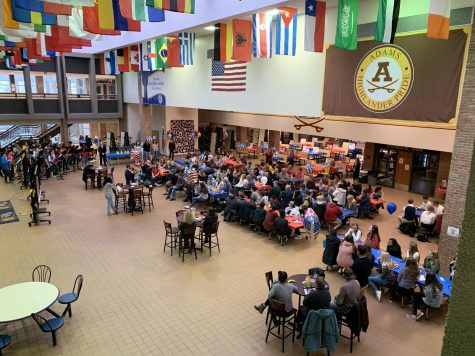 "We received many calls and emails from community members who were touched that our school paid tribute to our veterans," said DiCresce.
To get involved in next year's Veterans Day celebration or future events to come, visit Adams News and Notes located on the Adams online home page.