Tragedy Strikes the Golden State
Look outside the nearest window: There are probably some leaves, a bit of snow from this past week, the skies are cloudy and it is more than likely freezing cold. A lot of people complain about the ever changing weather conditions that come along with living in the state of Michigan. What many residents do not understand is that there are some perks to living in a mild state with little to no natural disasters.
Right now in the sunny state of California, fires are ravaging the land. The first fire started on Thursday, November 10th and is known as the "Camp Fire." This fire is burning near the small town of Paradise in northern California and was started in the forest that surrounds the area. There are around 27,000 people currently living in the area, many of them part of the elderly community.
According to a The New York Times interview of Thomas Fuller, the San Francisco bureau chief, 6,453 homes have been destroyed in the flames and 29 people are dead. There are some other shocking factors that the news website share with readers.
"More than 200 people remain unaccounted for, raising the possibility that more bodies will be discovered," said Fuller.
Wildfire season takes place for a period of time starting in the beginning of the summer, and ending late in the fall season. According to California Wildfires: Death Toll Reaches Grim Milestone, experts are warning people to be cautious of them because they have become a year-round problem.
Apart from just the "Camp Fire," there are two other major fires going on as well that are spread out across the state. Fire fighters have not contained any of the fires and are attempting to do so as the days go on.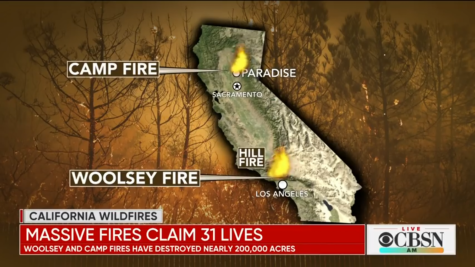 This tragedy is affecting thousands of lives as residents are forced to flee their homes and leave the contents within them behind to be destroyed by vicious flames.
"Most of the residential area is gone. I would say 90 percent. I had an opportunity to go up there and look myself," said Jody Jones, Mayor of Paradise, California.
These fires have taken a lot from the people of California, but anyone can help. There are many non-profit organizations which have stepped up to help including the American Red Cross and the California Wildfire Foundation, who dedicate their time to help everyone affected financially. Donations can be made on either foundation's website and are greatly appreciated by the public. These victims have endured enough, now it is time for the other states to step up and show support for our fellow Americans.