Things Heat Up at STEAM Fair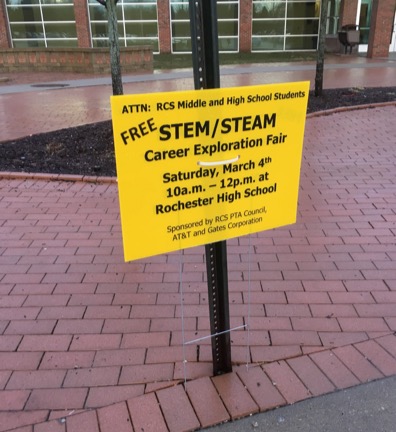 As the high school years dwindle and college's shadows encroaches over students' minds, future careers are a constant worry.  For those who are interested in a career in science, technology, engineering, art and design, or math, the STEAM Career Exploration Fair is tailored to finding a career for them. On Saturday,March 4, the Rochester PTA STEAM Committee brings the third annual STEAM Career Exploration Fair to Rochester High School from 10 a.m. to 12 p.m.
At the fair, students will have the opportunity to meet and talk with professionals from over 60 careers.  They can answer questions students have about job responsibilities, requirements and skills that come with a career in STEAM.  Students can find out what educational background is required, what a typical day is like, what the salary range is, what the future outlook is, etc.  The presenters at the fair are available to answer any and all student questions.
"At the Rochester PTA Council STEAM Career Exploration Fair, students are able to interact with professionals in more than 60 different careers.  This provides an opportunity for students to ask professionals about their career," said Michelle Bueltel, Rochester PTA Council STEAM Fair Co-Chair.
The day is designed for students to learn more about careers and what they will need to succeed with it, be it a technical or trade school certification, associate's degree or bachelor's degree.
"We believe that the STEAM Fair can help students turn their interests, curiosities, hobbies and talents into an idea, career path or a profession.  Many students may not understand how their interests and strengths equate to a practical job skill or area of study.  The STEAM program helps make connections between academics and fulfilling, real-life applications," said Bueltel.
The fair will provide interactive workshops for students ranging from Communication Design- which will introduce students to the materials and tools Communication Designers use- to Transportation and Traffic Engineering- which will talk about building and maintaining a road network, how to reduce traffic congestion, and will include hands on computer models.  
To be eligible for a workshop, students must sign up on the PTA's website before the fair.