The Season of Giving at Adams
This year Rochester Adams' National Honor Society strived to bring its services into the hearts and homes of children in the area in need of Christmas toys. With the Toys for Tots Charity Drive, donations in the form of toys were collected in the school media center. Teacher and advisor of the Adams National Honor Society (NHS), Ryan Porter, provided additional insight on the drive itself.
Q: Who is the drive for? Who is it benefitting?  
A:  The basic mission of the Marine Toys for Tots Program is to collect new unwrapped toys and distribute those toys to less fortunate children at Christmas.
Q: When did the drive run? What date? 
A: The drive ran from November 15th until December 13th.
Q: What kind of items were donated?
A: A wide variety of toys for boys and girls from around the ages of 9 to 14.
Q: Could only NHS members donate or was it open to all? 
A: This year we only asked for toys from NHS members, but all were free to donate!
Q: How was the drive promoted? Through NHS? 
A: The drive was promoted through NHS and the NHS November Agenda, Remind, Google Classroom, and through signs in the Media Center
Q: Who was spearheading this initiative–was it student or teacher led?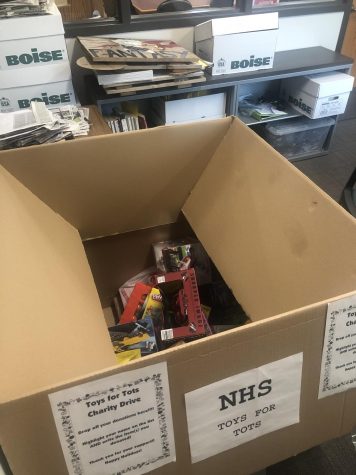 A: With some assistance from the NHS Advisors, this drive was mostly student led. The students did a great job coordinating and promoting this donation drive.
The drive was very successful as many less fortunate kids had holiday gifts because of Adam's generosity. The Marine Toys for Tots nonprofit has distributed 566 million toys since its founding. Hopefully, this charitable event will continue in years to come.