The New Normal Reminding Us of the Old Normal
Adams students gather in the senior area for the first time in almost a year

Rochester Adams students have mixed emotions about returning to school full time.
It was recently announced to Rochester Community Schools students and parents that a five-day-a-week school schedule will be implemented after almost a full calendar year of online classes. 
The new schedule consists of three classes a day that are a little over two hours per class. Monday and Thursday students will have first, second and third hour, and on Tuesday and Friday students will have fourth, fifth, and sixth hour. Wednesdays will alternate between the two different class schedules.
Although some students enjoyed online learning, many are excited to get back in the building in person and see friends that they haven't seen in a while.
"It's a great chance to talk to the people that I don't get a chance to talk to on zoom," said Rochester Adams Senior, Alexis Wolas.
Students have been isolated from others that they don't see outside of school, and the new schedule is a nice change to start to get back to some normal life.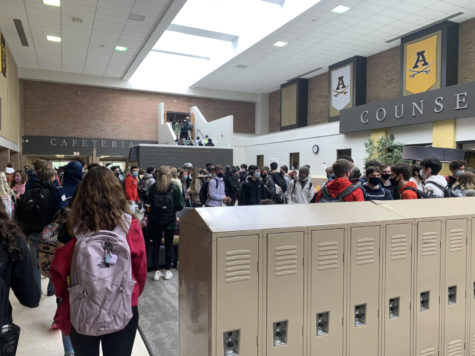 Despite the fact students are enjoying the social aspect of a full school schedule, many are not enjoying the early wake-ups that weren't an issue during remote learning. Some students believe that the early start time and reduced sleep inhibit their learning abilities.
"Waking up early prevents us from using our brains full potential," claimed senior Adam Laubach.
It is entirely possible that lack of sleep could contribute to lower grades in classes, and this is something that will have to be monitored moving forward.
Another common complaint about the new schedule is how early some students have to eat lunch. Since the first lunch is right after the first class, many have lunch at 9:45 AM, which is substantially earlier than a regular six-class school day.
"I don't like eating lunch at breakfast time," said Rochester Adams student, Camden Dalton, somewhat sarcastically.
Since there is a more than four-hour gap between the end of first lunch and the end of the day, it will be interesting to see if student complaints about end of day hunger becomes a problem for the school system.
With all of the change in regard to the class schedule and school day, opinions have differed among students. Widespread complaints are accompanied by many beliefs in the benefits of full-time school. The jury is out on whether these changes will benefit the students, but one thing is for sure, change is most likely coming again.