The March Against Gun Violence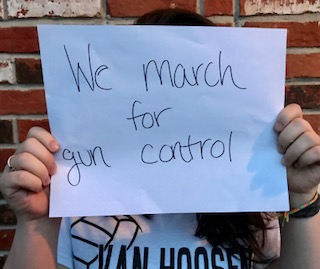 The United States has had 18 school shootings since January 1, 2018. The eighteenth, and most recent, school shooting occurred on February 14. On the same day as the march on Washington D.C., students will be taking the matter of gun violence into their own hands.
The March for Our Lives school walkout is happening on March 14 at 10 a.m. Many students will be walking out of their classrooms and schools for 17 minutes in honor of the 17 students that died in the Marjory Stoneman Douglas High School. The organizers of the Women's March organized the national school walkout as a protest against gun violence.
The big rally against gun violence became known across the country after Emma Gonzalez, a student from Marjory Stoneman Douglas High School, gave a speech which was broadcasted on CNN. Her speech was intended to gain support for control laws, which included calling out President Donald Trump for repealing a law that made it easier for people with mental illnesses to buy guns.
On top of making speeches on live television, Gonzalez and her classmates helped organize the "March For Our Lives" movement to push for gun control laws. However, some schools are threatening to suspend the students and teachers who protest gun violence. They believe school time should be used for educating not a place for protesting.
"I believe you have a choice to voice your opinion, but I feel like it could make people feel like they have to walk out," said sophomore Sami Patrician.
Even though some schools are taking a hard stance, there are those like Rochester Adams High School and all high schools within RCS that are allowing students to participate without ramifications as long as they do so quietly and respectfully.
"I think that we should walk out because…it shows respect for the families," said sophomore Nick Pesci.
The fight for against gun violence has been growing since former President John F. Kennedy's assassination in 1963. Fifty-five years later kids of the 21st Century are deciding to make a statement in the hope that their voices will be heard and the violence against them will stop.