The Can Man
For nine years straight Rochester Adams High School has run an extremely successful canned food drive during a single week in the month of November. The results are nearly 30,000 cans donated to the Rochester Neighborhood House used for families in need.
This week causes the schools subject departments such as math, language arts, history, and science to compete with one other to raise the most money for canned foods by giving out incentives, selling food like doughnuts and baked goods, and slinging drinks like soda and lemonade.
"The canned food drive makes the week much more fun, and it keeps me full with doughnuts and soda," said Emily Hassinger.
Although most of the money raising is done by department, one man, Mr. David Lovalvo, a language arts and journalism teacher, runs what seems like his own business, selling doughnuts for 1.50$ and canned soda for 1$.
A large Stanley Cup like trophy that was made and named the "Canley Cup" is given and engraved with the name and year of the person who raises the most money during the canned food drive week. Mr. Lovalvo has won this trophy six out of the nine years because of his unique strategies and dedication to helping people.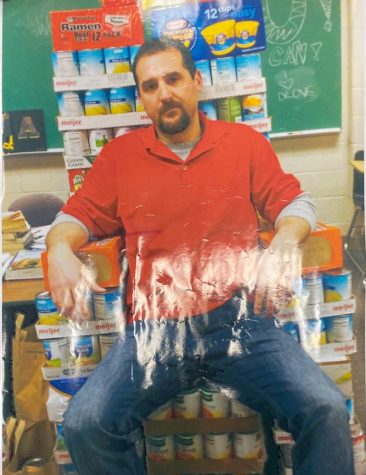 Although Lovalvo crushes nearly every other teacher in money raised, it does not stop the others from trying to do whatever they can to slow down or overtake his money making. The science department is by far the second closest to raising as much money as Lovalvo, and they have taken many steps to try to surpass him.
One example is on the school announcements in the form of a video commercial where all the science teachers gathered to sing the "We Ready" song whilst walking towards the screen with the slogan "donate today and beat Lovalvo". But even using these methods to slow down Lovalvo's sales, he still dominates.
The canned food drive leads to fun and friendly competition for the teachers and students, but most importantly it provides years worth of food for the hungry in our community.