The Big Bright Bunch of Joy
As the spooky season comes to an end, the holidays begin. Christmas lights hung in Downtown Rochester, better known as the Big Bright Light Show, attract people for miles and create lots of business for local shops. Going into town and admiring the lights has become a family-friendly activity, with free activities and sometimes even free food. The lights are also perfect for high school students in particular, because getting out and about with friends is just what they need at a stressful time in their lives.
The holiday lights shine bright from November 20th through January 7th.  The lights are turned on from 5 p.m. to midnight every day. There are a total of 1 million light bulbs that shine the way into the new year.
To get the community involved, Downtown Rochester hosts events like the Fire and Ice Festival, and an event commemorating the official lighting of the lights.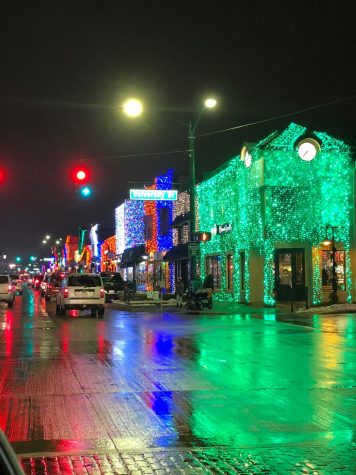 "I enjoy the downtown Rochester lights because it makes Christmas much more festive. My family and I try to visit the lights during their lighting ceremonies every year. It's a great way to start the holiday season. When I go shopping with my friends in the Village, it's fun to shop under the hue of the colorful lights," said sophomore Lainie Hauberg.
The festive spirit is spread throughout everyone in Rochester including Hauberg. The lights in Rochester create a hype for Christmas, but is it too much?
"I don't think they are getting lit too early because at the bigger stores like Target and Walmart, they start putting up Christmas decorations early and don't do anything for Thanksgiving, so I can see why they are lit as early as they are," said sophomore Nick Pesci.
Teens are able to get excited for the holiday season early, even though Thanksgiving is not given as much attention.
"The downtown lights are just one thing that brings the Rochester community together. All the colors and time put into decorating downtown Rochester truly embodies the Christmas spirit," said junior Emma Curran.
The festivities downtown gear up not only teens, but whole families too.
"For the holidays me and my family all decorate our tree and watch Christmas movies together," said Curran.
The Big Bright Light Show is an accurate representation of Rochester as it spreads holiday cheer and brings joy to local families. The lights in Downtown Rochester are a tradition that should last for generations.