Tackling Test-Taking
For many high school juniors, the once-faraway idea of standardized test-taking is quickly becoming reality.
A free practice SAT was administered on November 6th, 2018 at Adams High School. Eager Adams' Juniors reported to the school cafeteria bright and early on the designated test day, and received their scores near the end of November through the Princeton Review website.
"The only thing we have to fear is fear itself," reads a message posted to the College Board Twitter page.
However for many students, test-taking anxiety is a legitimate issue. The Adams Kilt spoke to students who have already taken the SAT and compiled their answers below into 5 key tips for students yet to take on the SAT.
Top 5 Test-Taking Tips:
Use available resources
All roads lead to the College Board: That's right, the very corporation that brought students the SAT and AP classes also provides free practice materials. The College Board also has an official partnership with the educational website Khan Academy that allows students to customize a study plan and choose courses by SAT topic.
Make it a priority
School and extracurriculars are already a balancing act; adding the SAT into the equation might seem impossible. Think about it this way, though: getting testing out of the way early means a less stressful school year and leaves time for focusing completely on college applications. Set aside 30 minutes or an hour to study for the SAT before doing homework and before fatigue sets in.
Take full practice tests
The best way to predict performance on test day is to simulate the experience as closely as possible. The College Board releases previously-administered tests, which offer the most accurate representation of the level of difficulty that can be expected.
Come prepared on test day
The SAT always begins bright and early. With that in mind, prepare the night before to avoid unnecessary rushing in the morning. Required materials include an approved calculator, number two pencils, and form of identification. It is a smart move to have extras. Some students find it helpful to have a freshly sharpened pencil for each section of the test. Lastly, get some rest.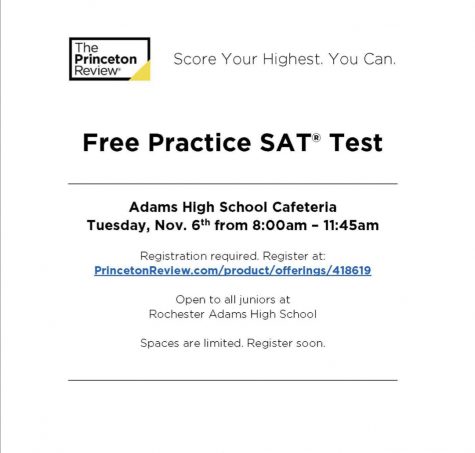 "I'd say get a solid eight hours of sleep the night before the test," said junior Sarrah Ahmed, who took the October 2018 SAT.
Review and categorize missed questions
To get the most out of every test-taking experience, revisit incorrectly answered questions. Every question on the SAT is part of a broader question category. For example, "Add/Revise/Delete" questions in the writing section require readers to decide whether information in the text is relevant. Keeping track of frequently missed categories can reveal patterns as to weaker areas. Next, target those weaknesses in practice sessions.
Remember: the SAT isn't subjective. Standardized testing is exactly what it's name implies; standardized, meaning tests are scored in a consistent, predictable way. With enough practice, significant improvement is possible. At the end of the day, though, a test score can't measure intelligence. As Adams students make their way through the testing experience, they should remember that SAT stress is not worth it.