Student Spotlight: Zena Nasiri
School business isn't the only type of business in which Adams students succeed. While most students only focus on grades, sports, clubs, and extracurricular activities, freshman Zena Nasiri spends her free time running her own small business, "EenaARTS". Nasiri and her sister work together to make jewelry, greeting, cards, bracelets, and other nifty items.
Nasiri has made her way into the spotlight by reaching out to local businesses to sell her products. She is currently selling her items at Yellow Door Art Market in Berkley, Michigan and on her Etsy page. She has also attended multiple craft shows and events including the Detroit Maker Faire. Running a small business does not happen overnight; it can take a long time to progress in the business world, especially when it starts out as a hobby.
"I have been running "EenaARTS" for two years now. I started making jewelry four years ago for  Girl Scouts. I enjoyed it so much, that I started selling my pieces. Over time I expanded my product line to other products. It all really just started as a hobby," said Nasri.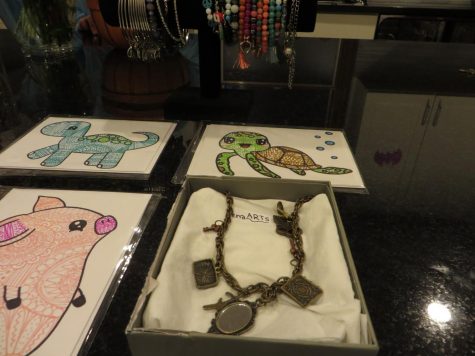 Those two years of hard work surely did not come without a struggle. But, through perseverance, Nasiri is a living example that anyone can achieve something if they put their mind to it.
"My biggest struggle as a young female entrepreneur is not being taken seriously because of my age. When I feel discouraged I just remember that we give some of the profits to local charities, like the neighborhood food pantry, Dream Center of Pontiac, and Refugee camps in Iraq and Jordan," said Nasiri.
Many students admire Nasiri for her strength in overcoming these obstacles, and giving back to those in need. Having a passion for something, and not being taken seriously must be tough, but Nasiri continues to pursue her dream, regardless of the difficulties along the way finding inspiration for her work, in her everyday life.
"My sister is my biggest inspiration because she is super hardworking, smart, and creative. The inspiration for my pieces comes from just looking at what's trending," said Nasiri.
Because of her sister's commitment, Nasiri is able to design her one-of-a-kind pieces for anyone to enjoy. She wants to grow her company and hopes her story inspires others who may be considering starting a business of their own.