Strength, Hope, Homes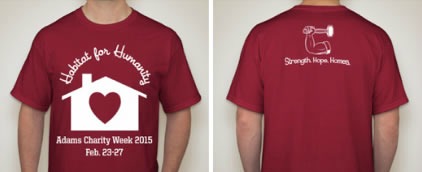 With eyes set on raising over $35,000 for Habitat For Humanity, Adams Student Council is gearing up for Charity Week 2015.
Charity week kicks off on February 23 with Pajama Day and a special meal deal at Noodles & Company. The rest of the week includes Business/Career Day on Tuesday with a meal deal at Max & Erma's, Hawaiian/Tropical Day on Wednesday with a meal deal at Buffalo Wild Wings, "Bob the Builder" day on Thursday, and T-shirt day on Friday. This year's t-shirts are maroon and feature the phrase "Strength, Hope, Homes" on the back. The annual spring pep assembly will also take place on Friday.
All proceeds from Charity Week will be donated to Habitat For Humanity. This year's target of $35,000 was set in order to push German teacher Mrs. Janie Barner's total career donations towards Habitat for Humanity to over $100,000.
"It's all about the money, money, money," said senior Aaron Meek, Student Council President.
In the wake of past years' successful Charity Weeks, Student Council hopes to finally push Frau Barner over her goal.
"I'm really excited to be sponsoring Habitat for Humanity, and we hope to raise enough money to fund half a house, which is about $40,000," said Student Council adviser Mr. Bryan Lindstrom.
Charity Week 2015 is quickly approaching, so get ready to donate in order to help families in Metro Detroit receive new homes!