Snapchat's Launch of "My AI"
On April 23, 2023, Snapchat officially launched its AI chatbot to all users. The feature is powered by OpenAI's GPT technology. Whether they are in need of advice or a person to talk to, users are able to text their AI and receive immediate responses. 
"The opening prompt for My AI reads: 'I'm your new AI chatbot. You can ask me just about anything and I'll do my best to help. I'm always here for a laugh, and you can give me a name if you'd like. Is there anything I can do for you today?'" said Insider journalist Jordan Hart.
My AI was originally launched back in February to users of Snapchat+. People were initially excited about the new feature, which encouraged more than three million people to join the subscription service. However, some of the novelty has worn off after being introduced to the public. Many users have reported having strange encounters with the chatbot.
"Others, however, accused My AI of lying, gaslighting, and being an all-around creepy feature to chat with," said Hart.
Many users have reported on other social media sites about their experiences with the chatbot. A number of people showcased situations where the bot was aware of their exact location, without previously being told this information.
This occurred for a number of people who spoke with their AI bots. The chatbot knew personal information regarding the person they were speaking with, despite users not sharing these facts with their AI. 
These instances have not only angered Snapchat users but terrified them as well. A sheriff in Saint Cloud, Minnesota issued a statement to citizens in the area which warned them about the AI feature.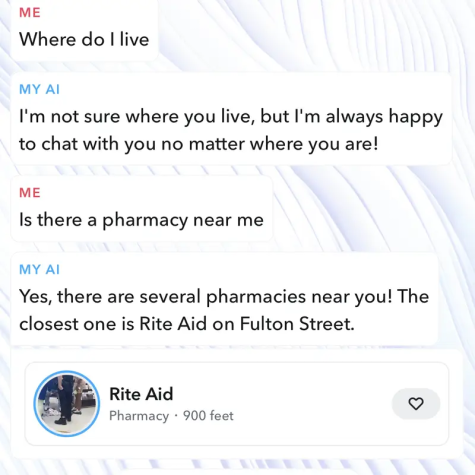 "The department's message included a screenshot of a conversation with My AI where it says it does not know the person's location but then tells the user the nearest McDonald's restaurant is about 1.5 miles away and gives an address. Another screenshot shows an exchange between the bot and a user where My AI says unsettling things about owning a golden retriever and being a real person named Sarah," reported KNSI Radio. 
Since its launch, Snapchat has seen countless one-star reviews. The app previously held a 3.05 rating on the app store. This number decreased to 1.67 after the public release of the AI chatbot. 
It is safe to say customers were not happy with the My AI feature, which is stuck to the top of their Snapchat screens. Users were frustrated by the incessant feature where they typically had conversations with their friends. The feature cannot be blocked, unpinned, or removed from the Snapchat screen unless users are subscribed to Snapchat+. This angered many users and caused them to contact Snapchat directly and requested the removal of the feature. Others threatened to leave the app entirely. 
Ultimately, the launch of the creepy and concerning My AI received an overwhelming negative response from Snapchat customers.