Rochester Christmas Parade 
Downtown Rochester was packed with holiday cheer along Main Street on December 8, 2019. Crowds gathered to watch the 68th annual Rochester Hometown Christmas Parade.
This parade has been a tradition for 68 years and attracts tens of thousands of people to the Rochester area usually on the first Sunday of December. The parade was started in 1950 by the Lions Club, soon becoming an annual local tradition. This year, crowds of all ages came to watch the marching bands, floats, and community groups as they walked along Main Street waiving and throwing candy to the kids.
Even though the parade begins at 2 p.m., many individuals go as early as 8 a.m., in order to secure the best spot to watch.   
"It has been a tradition for my family, ever since I was little. We always went the the Christmas parade. I always remember going with my dad early and securing the best spot to watch," said junior Melina Catenacci.
Many new activities were introduced at this year's parade. Children could visit the new Santa Wonderland warming tent area and meet Santa, participate in sing-alongs, craft stations, face painting, and, of course, hot cocoa and cookies.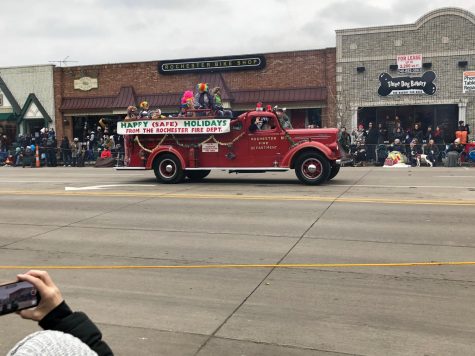 And no matter the weather, the parade carries on in all conditions, rain or shine. Those who preferred to stay out of the cold could view the parade on the Rochester Hills website or Facebook.
"Even though the experience is fun, I would rather stay home and watch the parade online while not having to be in the cold," said junior Olivia Ris.
The parade is a long-standing, annual tradition in the community, as many view it as a time to get together and celebrate the coming Christmas holiday.