RCS Readers Duke it Out: Battle of the Books
Ready, set, read: The RCS PTSA invites students to compete and win prizes in the second annual Battle of the Books event, hosted at Adams High School, on April 26th.
The Battle of the Books is a year-long program in which students are encouraged to read and analyze a selection of young-adult novels. At the beginning of the year, students can nominate the books that they want to see in the program. From there, seven titles are chosen for district high school students to begin reading. Throughout the school year, students are encouraged to form book clubs within their high schools to discuss the texts and prepare for Battle Night; this is when the four teams, from ACE, Adams, Rochester, and Stoney Creek, respectively, compete to win the title of district champions. During Battle Night, students also eat, socialize, and win raffle prizes from local businesses, including Moosejaw, Starbucks, and The Cupcake Station. Students will receive one raffle ticket for each designated "battle book" they read, and can print out these tickets by visiting the RCS Battle of the Books webpage.
"Since we have Authors in April in the district, many of us who worked with that program had discussed how we could have a similar program for the high schools. When we found out about Troy Schools doing a Battle of the Books in their high schools, we decided to pattern theirs after ours and bring it to RCS," said Battle of the Books district coordinator Heather Meloche.
The title of district champion is based upon a points-system: each school has the opportunity to win preliminary points leading up to Battle Night. These points are earned by completing activities or participating in contests under each school team's name. As per the webpage, the March contest is to make a creative, seven-book collage artwork of the selected covers. During the trivia session at Battle Night, the school teams compete to collect more points for each correct answer to trivia collections about the year's selected novels. The winning school is crowned with a trophy on Battle Night itself.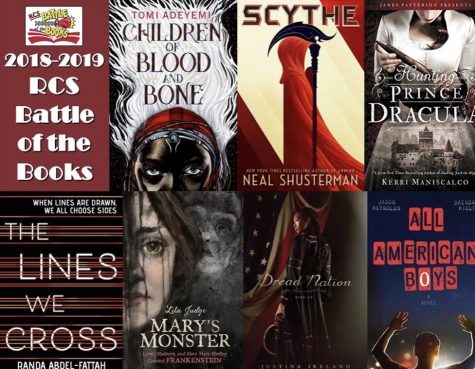 This year's seven "battle books" are Children of Bone and Blood by Tomi Adeyemi, Scythe by Neal Shusterman, Hunting Prince Dracula by Kerri Maniscalco, The Lines We Cross by Randa Abdel-Fattah, Mary's Monster by Lita Judge, Dread Nation by Justina Ireland, and All American Boys by Jason Reynolds and Brendan Kiely.
"I think our Battle of the Books program gets students to read who wouldn't normally pick up a book outside of class. We try to have a variety of genres on the list so there is something for every reader," noted Meloche.
For the 2018-19 school year, Battle Night's Master of Ceremonies is Kristen Bartley Lenz. Lenz is the Michigan-based author of The Art of Holding on and Letting Go, winner of the 2016 Helen Sheehan Young Adult Book Prize, as well as a selection for the 2017-18 Great Lakes Great Books literature program for teenagers.
Additionally, on Battle Night this year, participants will have the opportunity to Skype video-chat with "battle books" authors Lita Judge, Brendan Kiely, Justina Ireland, and Randa Abdel-Fattah. Students can solicit advice or ask questions about the authors' work, providing a unique experience to interact with published writers face-to-face. Those interested in participating in the Skype session can submit questions beforehand on the homepage of the Battle of the Books website.
Also new this year is the PTSA Battle of the Books Logo Contest. Students with an artistic inclination are invited to design a logo to be used in future RCS Battle of the Books programs; the first place winner will receive a $100 gift card, and the second place winner will receive a $50 gift card.
"We are looking for a really eye-catching logo that is unique to our program and that will be used for years to come," said Meloche.
The Battle of the Books program is one of many ways that the Rochester Community Schools PTSA tries to make students' school experience engaging and enriching. For avid and casual readers alike, the upcoming Battle Night will be a chance to show their skills and emerge victorious.