RCS' New Way to Vue Grades
To start off the 2017-2018 school year, the district came out with a new way for students to view grades online. The new gradebook is called "Synergy" or "RCSvue", and it is a completely different from what most students had become previously accustomed to. MyRCS did not allow students to view grades immediately, so they had to wait 24 hours before they could see their grades. With MyRCS, teachers were not inclined to add grades everyday because it could only be done from school computers. "RCSvue" is very convenient; it has everything divided up into sections. These sections include messages, calendar, class schedule, course history, gradebook, school information, and student information.
"The website is very cool and user friendly," said senior Julia Gerard.
Messages allow the teachers to send information to students directly instead of having to send an email and having to wait for a response. This is more of a instantaneous way of communicating with the teachers.

The calendar displays what will be done each day in class, allowing anybody who missed school for any reason to know exactly what they missed and what needs to be done to catch up. Also, students can view class schedules separate from the gradebook.
"I like how I can show my friends my schedule without them seeing my grades," said freshman Milan Patel.
Students can see all the courses that have been taken starting from the first semester of sixth grade. All of the classes are put in the order they were taken and organized by semester. This allows students to see all final course grades from middle school to their current grade.
The gradebook can be viewed on its own, and it includes the schedule as well as grades,  just like "MyRCS".

In the school information tab, there is a list of all the teachers in the building, and it is linked to their email. By clicking on a name, the student has the ability to send an email to the teacher without having to go to their district or "Moodle" website.
There is also a tab for student information, which includes the bus number, the time it comes, and where the pick up location is. It also has an emergency contact, district email, student number, grade, gender, etc.; including a place for a nickname if applicable and has the students' counselor's name as well.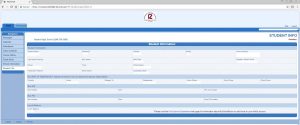 Although this is a big change to the online gradebook, it seems to be getting positive feedback. The students of Adams High School seem to be taking this change very well, and like the instantaneous view of their grades online.