RCS MLK Day Event Promotes Equity in Education
To those who continue the fight for social justice in America, Dr. Martin Luther King Jr.'s legacy is a call to action.
The Rochester Community Schools district recently held two free public events to honor the life's work of Martin Luther King Jr.
On Monday, January 21st, observed as MLK Day, RCS hosted the inaugural celebration from 9:00-11:30 AM. The event began with a keynote speech by Delma Jackson III, a social justice lecturer. Jackson opened his speech with by acknowledging–and debunking–a well-known cliche.
"Don't tell me you don't see color. You color-coordinate your outfits, don't you? So don't tell me you can't see color," quipped Jackson.
Jackson's tell-it-like-it-is attitude set the tone for the rest of his hour-long speech, a direct, mirror-reflective evaluation of the part that all Americans play in their country's centuries-long existence  
Jackson's speech spanned from America's founding to the America of present-day; he focused on the housing discrimination interwoven United States' history, as well as how this systemic practice alienated black Americans and other minorities from the mythic "American Dream" narrative– one of rags to riches and upward mobility.
In a particularly thought-provoking moment, Jackson addressed another such myth of American folklore: 'pulling oneself up by the bootstraps', a narrative that Jackson attributed to the influence of mainstream media influencers like former Fox commentator Bill O'Reilly. Jackson, the grandson of a WWII vet, used a personal anecdote to prove his point, noting that both his grandfather and Bill O'Reilly's father served in the Pacific Theater in WWII. The difference? White soldiers were granted government assistance to reintegrate into society under the GI Bill. Black soldiers were not.
"My grandfather couldn't afford to put his kids through school…It's not about getting handouts, it's about getting what's deserved," noted Jackson
The second of the district's two events, a panel and dinner, on was held on Wednesday, January 23rd from 6:00-8:00 PM. The panel was moderated by Detroit Free Press panelist Rochelle Riley; panelists included Dr. Jay Marks, Dr. Joyce Piert (who went by the more familiar "Dr. P."), Naomi Khalil, and Kimberly Thomas. All four panelists are activists for equity in education between students of all denominations: Dr. Marks is the Oakland Schools diversity consultant, Dr. Piert is the author of the alternative-education book Alchemy of the Soul: An African-Centered Education, Khalil is works as the Director of Instructional Equity for Farmington Public Schools, and Thomas is director of the Equal Opportunity Schools Project.
The evening began with Riley asking audience members what social justice means to them–among words mentioned were "equality" and "equal opportunity", buzzwords that were brought up many times throughout the resulting panel discussion.
The panel examined the current state of American public schools from a unique perspective; all panelists work in the public school system, and all expressed the idea that the current education system is fundamentally flawed: not because of educators or students, but because of an inequitable framework for education.
Much of the panel discussion centered around alternative or inclusive education, and among suggested ideas were giving students more freedom to set boundaries for their learning, and fostering an environment in which students of color feel supported in their pursuit of challenging Advanced Placement curriculum.
More than a couple times, the energy within the room felt uneasy; discussion on inclusive education naturally transitioned to a discussion on the role of societal privileges and systemic inequalities bleeding into education, and this was, after all a mostly suburban mostly white audience. At one point one of the panelists asked if anyone in the room felt uncomfortable in that moment, raising their own hand in solidarity. Nearly three-fourths of the hands in the room went up.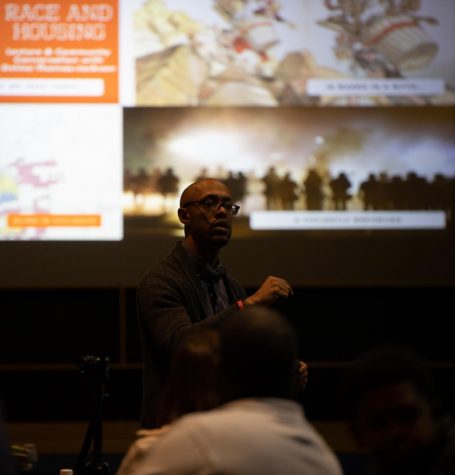 Riley closed out the panel by emphasizing the importance of action in addition to listening, noting that real work begins after dialogue.
"The conversation about race and enslavement is the conversation America has never had. Until we have that conversation, we will never be able to heal," Riley said in a statement to the Kilt.
Robin Carter, the Rochester Community Schools director of diversity and inclusion, anticipates hosting similar events in the future.
"My goals for the events were to make sure we moved the conversation towards education. In the past, I think MLK (events) were a lot about celebration, and I think that's important, but I think that the aspect of education was missing, and look at educating individuals why MLK was important," noted Carter.
Carter also hopes to improve upon the framework of the events over time:
"The goal for me was to bring students to the panel…For next year I have some different plans for how I'm going to market the events differently," said Carter.
The RCS MLK day events align with the district's new focus on inclusivity. Many district officials, including RCS superintendent Robert Shaner, were in attendance at one or both events, as well as parents of district students. For equity-minded educators, however, this is just the beginning: There is work to be done not just in Rochester, but within the entirety of the American school system.