RCS Honors the Great Martin Luther King with Contest
"With liberty and justice for all," is only a part of the pledge kids express every morning. Each day students throughout Adams High School and throughout the country recite "The Pledge of Allegiance". This pledge illustrates equality in America, and everyday Adams students honor this in the school and the community.
Dr. Martin Luther King Jr. fought for equality for African Americans, the economically disadvantaged, and all victims of injustice. Inspired by Mahatma Ghandi, Dr. King used peaceful protests. He influenced memorable events such as the Montgomery Bus Boycott and the 1963 March on Washington, he was awarded the Nobel Peace Prize in 1964, and because of these and many other accomplishments, he is remembered each year on Martin Luther King Jr. Day, a federal holiday.
As Martin Luther King Day nears, students look forward to a day off, but it is more than just that. It is a day to celebrate Dr. King and all he did for the Civil Rights Movement. He is one of the most well-known African-American leaders of his era. This year at Adams, Martin Luther King Day will be recognized by supporting its annual short essay, poetry, and multimedia contest.
All K-12 students in the Rochester Community Schools school district will be able to participate. Students can enter a short essay, poetry, and multimedia contest. There is also a program cover contest in which students can submit a design for the cover of the celebration program.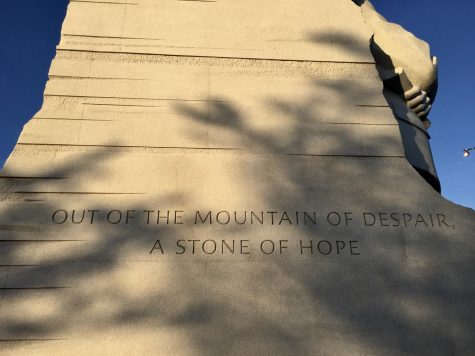 This year the theme for the student contest is Dr. King's famous quote, "What are you doing for others?" All entries are due Friday, December 15 and will be featured at the Martin Luther King Day Celebration. The Martin Luther King Day Celebration will take place on Thursday, January 11, 2018 at Rochester High School in the auditorium from 6:30-8 p.m.
"If it forces even a handful of kids to recognize the message of Dr. King, it's worth the time to promote the assignment and therefore bring awareness to his achievements. His methods of non-violent resistance show that there's more than one way of making a difference, and it's so important for kids to not only be aware of his accomplishments but…understand that one person can make a difference, and a lasting one at that," said Adams Social Studies teacher Jack Beall.
Students can construct a titled short essay or poem to enter. All work must be typed with double spacing or handwritten. Students can also create a multimedia presentation that is no longer than two minutes. Nine winners will be selected to read or present their work at the Martin Luther King Day Celebration.
The winners will include three elementary school students, three middle school students, and three high school students from the RCS school district. Elementary school students' work must be shorter than 200 words, and both middle school students and high school students' work must not exceed 300 words.
The program cover contest appeals to a more artistic side. Students can design and submit a program cover for the Rochester Community Schools' Martin Luther King Day Celebration. For more information about how and where to submit entries, click here.
These contests are opportunities for students to demonstrate how Adams emphasizes the importance of helping others as the country celebrates the life of Dr. King. This Martin Luther King Day, commemorate how Dr. King fought for the equality often taken for granted in America today, and ask, "What are you doing for others?"