Principal Cumming Leaves Legacy of Excellence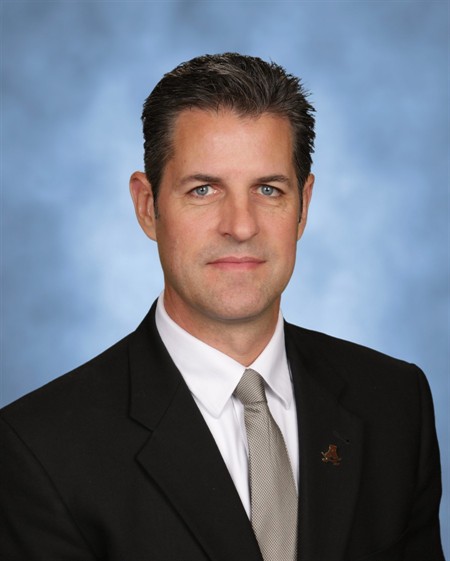 As the 2016-2017 school year wraps up, the Adams High School family will be saying goodbye to our beloved principal Mr. Kevin Cumming. For the past 17 years, Cumming has created a fun, safe, and enriching learning environment for everyone at AHS, whether it was as assistant principal, or for the last six years, as principal. . He has established treasured traditions and practices at Adams and has made this school a more exciting place to learn.
From sports championships to scholarly award ceremonies, Adams has continuously pulled out wins since Mr. Cumming first took leadership. Not only have the individual teams and clubs won prestigious awards, but the high school as a whole has been recognized many times.
Earlier this year, Adams was notified that they were nominated by the Michigan Department of Education to join the esteemed community of National Blue Ribbon Schools.  Only 13 outstanding public schools were nominated from the state and Adams is the very first high school to receive this nomination.  Additionally, Rochester Adams was ranked fourth among the best public high schools in the state, according to, US News and World Report.
Whether it is football games, pep assemblies or  testing days, Cumming has always been there to lift students' spirits and encourage them to succeed.
"It is important to make sure students have a safe learning environment and that the staff have a supportive workplace," said Cumming.
Looking back, Cumming feels that his time spent at Adams is unforgettable. Each year, he has watched new classes of students come and go and the knowledge he has been able to pass on to these young generations is priceless.
"I will miss our hardworking students, the great teachers, and the fun traditions," said Cumming.
Since Cumming has spent a significant portion of his life at Adams, he has accumulated many amazing memories with teachers and students.
"One of my many best memories at Adams was at one of the proms we had about a decade ago. All the kids made a big circle at the end of the night and hugged each other to say goodbye," said Cumming.
Although this is just one of many fond memories, Cumming feels that the best part of his career as a principal was seeing kids grow into adults. For incoming AHS students, Cumming hopes that current members of the Adams community will continue to make this school a fun and cultivating place for newcomers.
"I hope that future students will keep the Adams family strong," said Cumming.
The achievements and honors that Mr. Cumming have helped bring to Adams will define his time here at Adams. Although he is ready for a new chapter in his life, Cumming's outgoing personality and his accomplishments will never be forgotten.