Mystery Theme Park to Come in 2023
For the first time since 2017, Universal Orlando has announced a new theme park in the making. However, there is one catch—the actual theme of the addition has not been announced.
On August 1st, 2019, during a Comcast earnings call, Universal Orlando revealed its fourth central Florida park to be built: Epic Universe.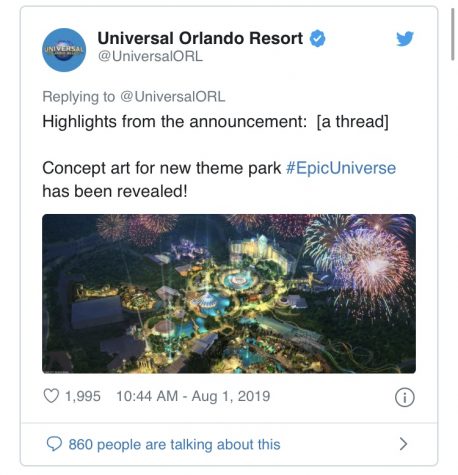 The 750-acre park is "the single-largest investment Comcast NBC Universal has made in its theme park business and in Florida overall," said Comcast Chairman and CEO Brian L. Roberts. 
According to Fox News, the park will include rides, attractions, an entertainment center, hotels, shops, and restaurants. It will be built south of the other Universal theme parks, in the area surrounding the Orange County Convention Center along Universal Boulevard.
As for the theme, rumors floating around the internet speculate at a Nintendo Land, How to Train Your Dragon, or Harry Potter's Fantastic Beasts themed park. Universal's existing parks now include Universal Studios, Islands of Adventure and Volcano Bay, making the possibilities for the next park endless. 
The theme park business is ever growing, with Universal properties bringing in an estimated 20 million visitors each year. Part of the motivation for building this theme park so quickly is that Comcast's parks division brought in $1.6 billion, a 6.8% increase, in the third quarter of 2019, according to Comcast's third quarter earnings results. 
Although Universal is charging forward with this new park in construction, it is still struggling to compete with its head competitor, Walt Disney World. Universal Orlando is only half the size of Disney, but Universal is attempting to fix the gap between their businesses with Epic Universe and future plans. More than 14,000 jobs are expected to be created from the new park.
Comcast and Universal officials have remained quiet on all other details of the future theme park. In fact, the media spread on the park has been so contained that many people don't know about the 2023 new park opening date. 
Adams senior Lily Shuttlewood, who is looking into taking a vacation to Florida in the near future, hadn't heard of the announcement. 
"It's exciting. Depending on the theme, I might have to go back to Florida in 2023!" said Shuttlewood. 
As time passes, theme park enthusiasts are hoping Universal will drop some more hints on the theme, attractions, and other details of the park as it undergoes construction. Until then, however, Universal fans will have to let their imaginations run wild.