Mr. MacFarland honored by PTSA
Whenever a student has to wake up early in the morning and drag themselves to class, there is only one thing that brightens their day; a teacher who is enthusiastic to see them and is ready to take on the day. A dedicated teacher is acknowledged for his/her hard work and spreading positivity to students through teaching here at Rochester Adams High School. Mark MacFarland (known as "Mac" to students) recently just won the Founders Award, an award meant to recognize teachers, parents, and students who have impacted the school district in a positive way. This was presented to him by the Parent and Teacher Association (PTSA).
"The Founders award is recognition of the service you made to your school due to students or teachers being involved and serving your school in a positive manner," said MacFarland.
The Founders award represents the PTSA's role in acknowledging members of the community that have made a difference in their school environment. When MacFarland was asked how he felt about receiving this award, he described the shock he felt.
"I was very surprised. It was during fifth or sixth hour when I was given the award. It was a nice surprise, and it just made my day," said MacFarland.
MacFarland is not only known for being a football coach and a fantastic teacher, but also for being very enthusiastic about education in general and coming to school each day with a huge smile on his face.
"[MacFarland] is probably the most down to earth teacher. I'm always excited to go to his class," said junior Wyatt Gilbert.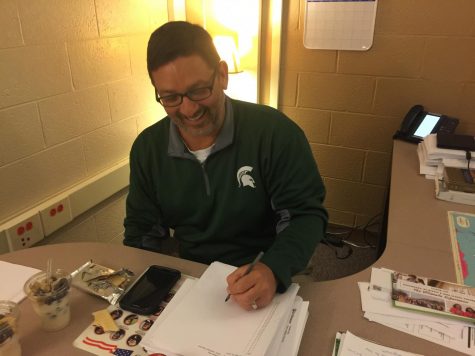 MacFarland believes being encouraging about education is important when maintaining a healthy learning environment. This encouragement creates a connection between the student and the teacher.
"[Mr. MacFarland] is such an empathetic person! When you ask questions, he responds in a positive manner. You don't feel weird because he makes you feel good about learning instead of feeling discouraged," said junior Andrea Zorrilla.
As a district, there are expectations on how students should be educated and how to make room for improvement. Now parents and administrators may be wondering, how can we further spread positivity within the district?
"[By] being mindful of opportunities we all have. We have to be positive about education and the chances we have to make the most out of what we are given. I have a lot of gratitude for teaching in this district. I grew up here, and I felt compelled to teach here, and it's an honor. I'm thankful to the people of this community for letting me be apart of that," said MacFarland.
The Founders award is not just about being recognized for the work you have done for the district and school you work at, but also spreading some positivity into our educational system.