More Than Just Brown and Gold
Adams High School gets a running start to the year with its annual 5k Color Run as students and family are welcome to take part in an event full of smiles, fun, and color.
"What is the Color Run? The Color Run, also known as the Happiest 5k on the Planet, is a unique paint race that celebrates healthiness, happiness, and individuality. Now the largest running series in the world, The Color Run has been experienced by over 6 million runners worldwide in 35 plus countries," said Color Run.
The event was held at Rochester Adams High School, September 29th at 8:30 a.m. at the Adams track. The event was not only for fun, but to promote a healthy and active lifestyle. Some of the event sponsors included Hansons Running Shop and Ascension Providence Rochester Medical Center. Students were not required to be apart of a school sport to partake in the festivities.
"It's a great idea! Even if you want to jog or even walk during the race, it's great to get out and moving. I have not run Adams Color Run in the past, but I hope to this year, it sounds like a great experience," said junior Natalie Hanby.
"I think Adams hosting a color run is a great idea and super fun for anyone who wants to join in. I've run in two colors runs in the past and they've been super exciting and memorable," said junior Ally Soldan.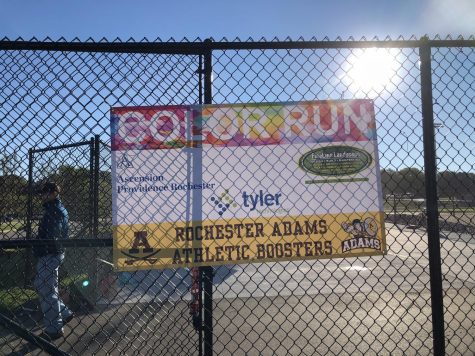 Students seem to enjoy the run, so it is a great idea to host one to raise money for the Adams Booster Club. The whole idea of the color run spurs back to a Hindu festival in India.
"An ancient Hindu religious festival called "Holi" inspired this popular event. Holi celebrates spring (the end of winter)—and it also signifies forgiveness and the victory of good over evil…For many, this is a festive day to forgive others, laugh, and repair broken relationships," by Mission India.
The festival in India is all about good energy and spreading love, which is what the Color Run embodies, and the Color Run at Adams is going to be the hype of the season. As the fall leaves are changing colors, Adams will be throwing colored powder in the air for its annual color run.