Michigan First State to Ban Flavored E-Cigarettes
It is evident that vaping has run rampant amongst the youth, however, that is about to change.
On Wednesday, September 4, Michigan governor Gretchen Whitmer announced a full ban on all flavored E-cigarettes. Some believe that E-cigs were appealing to children with flavors such as "Frozen Lime Drop, Gummi Bear, and Blue Raz Cotton Candy." This notion willalso include bans for mint and methanol vapes.
Many students currently enrolled in Adams High School presumably participate in the use of e-cigarettes; according to News in Health, 37% of American high school seniors are reported to vape. This ban should lower the number of students that are addicted to these harmful substances. The Centers for Disease Control and Prevention announced that the number of vaping-related deaths had risen to 18 within the United States, as of October 3rd, 2019.
"(Banning E-cigarettes) is better than doing nothing," said junior George Vulaj. "It should lower the death rate, and it's good to be rid of a negative impact on our community."
Companies like JUUL are predicted to take a large hit financially as teens are their largest demographic. According to the Truth Initiative, teens are sixteen times more likely to start vaping than adults. While it is true that adults also use e-cigarettes, they are less likely to use the flavors that the notion bans.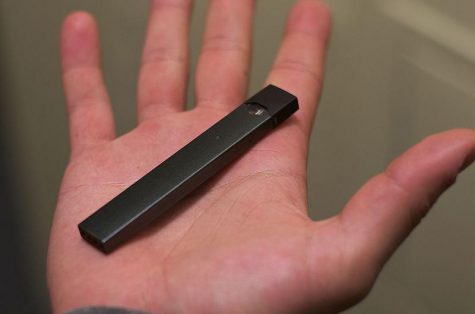 "It's good because now we don't have to worry about young adults and teens using e-cigarettes" said freshman Owen Zabritski.
How this ban will affect the lives of both teens and students alike is yet to be seen. There is no doubt that Michigan's ban on flavored E-cigarettes has caused waves that will hopefully encourage other states and maybe even the federal government to take further action.