Mangent DeMANS Attention
There are very few places where you have the opportunity to see teenage boys singing, wearing skirts, and tap dancing, Mr. Highlander is one of them. On April 13, 2018 Adams held their long awaited, annual ¨mangent¨, known as Mr. Highlander. This competition is between the boys of the graduating class. It consists of multiple parts such as spirit wear, talent, formal wear, and interviews.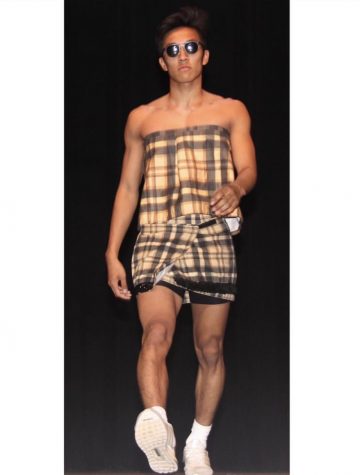 For the first round, the boys are challenged with putting together an outfit they feel embodies the Highlander spirit. They walk across the stage in a typical runway fashion and show off their goofy attire. Some boys wore uniforms for their respective sports, while others elicited laughs in girls clothing, such as lacrosse uniforms. Class President, Alex Kim, strutted across the stage in a very creative, double kilt outfit. They posed, danced, and even slid across the stage before moving into the next round.
The second, and arguably the most interesting, round is the talent performance. The boys picked talents they thought highlighted their skills.. kind of. While some boys sang and danced, similar to the spirit wear section, others came up with crazy, silly talents. Synchronized swimming, jump roping, and even tap dancing were a few of the many wild performances of the senior boys. Brendon Gibbons used his skills from his former job at Chipotle to wrap a burrito while making funny jokes about the students, staff, and environment of Adams.
Senior, Garrett Lineberger said, "I played Rara basketball with Brendon and seeing him on stage making everyone laugh was so fun to watch".
Cheers and laughter were bellowing from the crowd during this round. The easy-going, upbeat mood was replaced with heartfelt smiles as the boys moved into the rest of the performance.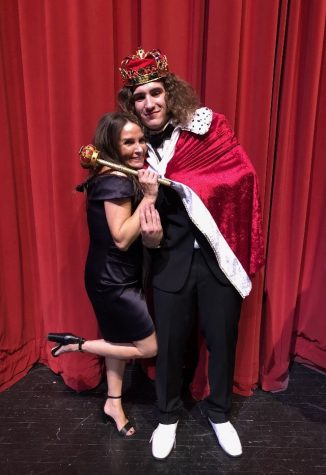 Boys escorted their mothers, friends, and sisters in the Formalwear round. They dressed in Tuxedos, compliments of Men's Warehouse, and their significant others dressed to the nines in stunning dresses. The rest of the night took a more serious tone as the boys answered questions such as "What would it mean to win Mr. Highlander?" and talked about how much going to Adams means to them and how being part of this competition has been the perfect end to their high school career. At the end of the night the crowd voted on who they thought deserved to be the next Mr. Highlander and a panel of staff judges did the same. It was limited to a top 5 and then a final king was crowned. Stephen Roncelli, Grand Valley football commit, was eventually crowned winner, literally. 
Mr John Hall, math teacher and staff judge said, "Stevie was very deserving of this honor. I have been a judge of Mr. Highlander for several years and this was by far the most talented group we have had. Therefore the fact he was able to win this year is a huge credit to him".
The fun night was wrapped up with the opportunity to go on stage and take pictures with audience members' favorite contestants. This annual tradition successfully saw another close and `sathe crowd seemed more than pleased with the funny, crazy show, and eager for many more to come.